Are you the type of person who needs a pitch-black room to sleep? Do you suffer from headaches or sinus problems that mean you can't relax? Then, you might benefit from an eye mask to help you nod off.
There are a wide variety of eye masks to choose from, and benefits include cooling eye masks for headaches, heated eye masks for sinuses and weighted eye masks for getting the body ready for rest.
Here at Spirit & Destiny, we've put together some of the best eye masks we could find, along with some insight from experts and top tips for a restful night's sleep.
What are the benefits of eye masks for sleeping?
There can be a number of benefits for eye mask wearers when sleeping. The main benefit is blocking light from reaching our eyes while we're trying to get to sleep. The darkness increases the production of a hormone called melatonin, which puts our bodies in a state of relaxation, ready for sleep.
On the other hand, artificial light stimulates the hormones and gets the body in a state of alertness. This production of hormones can have an effect on our sleep cycle and circadian rhythms. Therefore, while it may seem like common sense, sleeping in a dark room holds the best results for a good night's sleep.
For those who have trouble with sensory overload, those with anxiety, or those who suffer from headaches, migraines or sinus problems may benefit from eye masks for sleeping. Take a look at some of the different types of eye masks that are out there and how they might be able to help.
What types of eye masks for sleeping are there?
With some eye masks infused with camomile or lavender to help promote sleep and relaxation, there's an option for everyone. Eye masks can come in several materials - from cotton to silk, gel to beads, and even bamboo or eucalyptus.
Here are some of the different eye masks you can get, their properties and their benefits for the wearer:
Cooling eye mask:
These types of masks may be made from materials such as gel, which are the most effective in cooling eye masks. However, bamboo is a material that's often quite cooling too.
These cooling properties may help to soothe inflammation associated with headaches and migraines. They may also help reduce dark circles or puffiness around the eyes related to little sleep.
Heated eye mask:
These types of masks can come in a variety of materials. From beaded eye masks you put into the microwave, to self-heating masks containing iron fillings. It's always best to check these materials, especially to see if they're microwave appropriate.
Heated properties can help with dryness of the eyes, creating a hydrating environment by stimulating the oil glands. It may also help with allergies and sinus issues by draining fluid.
Weighted eye mask:
These masks can include microbeads, flaxseeds, sands or a whole range of materials which apply light pressure to the eyes that can cause a calming or soothing sensation.
A weighted eye mask may also be soothing for some who are neurodiverse, potentially for people who suffer from sensory overload. Furthermore, they can also reduce symptoms of anxiety, as the gentle pressure puts the body into rest mode.
10 of the best eye masks for sleeping
Here are our favourite eye masks for sleeping, from cooling gel masks to self-heating masks.
Description
One of our top picks, these self-heating eye masks from Sensory Retreats are infused with the
Description
This weighted eye mask is a John Lewis bestseller. In two colour choices of grey and pink with its
Description
In a gorgeous celestial print, these starry space masks are self-heating for full relaxation.
Best sustainable eye mask
Description
Made entirely from Eucalptyus silk, this sustainable eye mask is hypoallergenic, biodegradable and
Description
Another amazing mask from Sensory Retreats is their award-winning Luna Eyes mask, which self-heats
Description
Known for their amazing silk products, this luxurious eye mask by Slip is incredibly soft and
Best hypoallergenic sleep mask
Description
In two different colour options, this mulberry silk mask with lightweight padding allows the
Description
A simple option that ensures the wearer gets their sleep, this faux fur mask with satin lining
Description
If you suffer from headaches or you're looking to get rid of dark circles due to lack of sleep,
Description
With thousands of reviews on Amazon, this is one of the most popular sleeping masks on the site.
Is wearing an eye mask for sleeping bad for your eyes?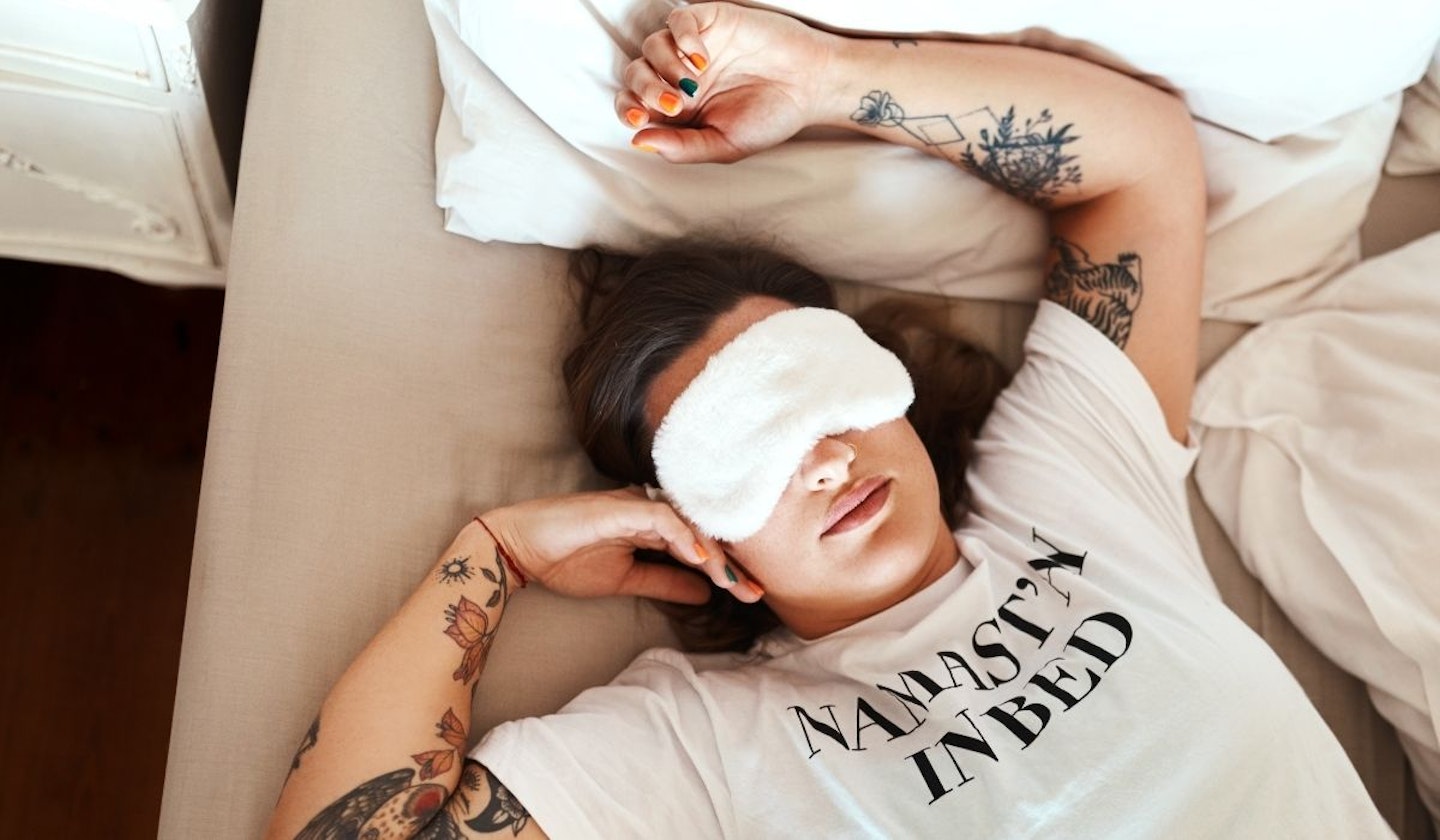 After seeking expert advice from an optometrist from Specsavers, we were informed that eye masks are perfectly safe to use while sleeping and can't cause any damage to the eyes.
In terms of comfort, ensure your mask fits you well. It shouldn't be too loose so that it slips off or too tight it blurs your vision, makes you dizzy or irritates your eyes.
Be sure to check the washing instructions for the mask you use and to wash your eye mask regularly to maintain good eye hygiene and prevent infection or irritation.
Tips for a good night's sleep
Here are some top tips for a good night's sleep,
A dark room: Dim lighting and an eye mask will help to create a dark atmosphere in the room. Investing in blackout blinds or curtains will also help with this. A dark environment will help get the body ready for sleep.
Low level of noise: Certain noise serves as a distraction while getting ready for sleep. White noise, however, can help assist with getting to sleep. Wearing earbuds or listening to relaxing sounds like white noise, rain or meditation tracks may help the listener to fall asleep.
The right temperature: Experts advise sleeping in a room that's slightly lower than room temperature. A temperature of 16 degrees to 18 degrees is ideal for most.
A good pillow and mattress: Being comfortable in bed is a huge factor when it comes to getting a good night's sleep. The correct pillow and mattress to help support the head and neck can make a big difference.
Limit time on your devices: Phones, tablets and laptops are full of artificial light. Spending time on these devices before bed will stimulate the brain. Limiting as much time as possible on these devices will help to regulate the circadian rhythms.
A hot caffeine-free drink: Drinking a hot drink before bed without traces of caffeine may help your body to get into a state of calm and relaxation. Camomile tea is especially known for its calming properties.
Pillow spray or calming scent: Lavender has been commonly linked with sleep benefits. Spraying a pillow spray or using essential oils to create a relaxing environment in your room.