It's no secret that we all have our own little rituals before bed: from doing some light yoga to meditation or having a cup of night-time tea. These, generally, set us up for a good night's sleep. Are you having trouble drifting off at night and entering a peaceful sleep? There are several ways to eliminate stress and wake up feeling refreshed, reinvigorated and revitalised at daybreak. Perhaps, our list of the best sleep sprays will help you out.
For some of us, pillowmists and sprays are the answer to our problems.
These little bottles of wonder use a blend of calming essential oils that encourage your mind and body to find some serenity before bedtime. Banish that stress from your psyche. Research suggests that these aromas can induce melatonin, the hormone that promotes a night of good sleep.
So, if you're having a spot of bother at bedtime when you want to switch off, maybe a soothing pillow spray could help you get your head down. Packed full of essential oils, these pillow sprays and sleep mists certainly beat counting sheep. And smell much better, too.
Why not check out these pillow sprays and sleep mists? We've rounded up the best sleep mists and pillow sprays available. They're guaranteed to help you get your eight hours.
The best pillow sprays and sleep mists to help you sleep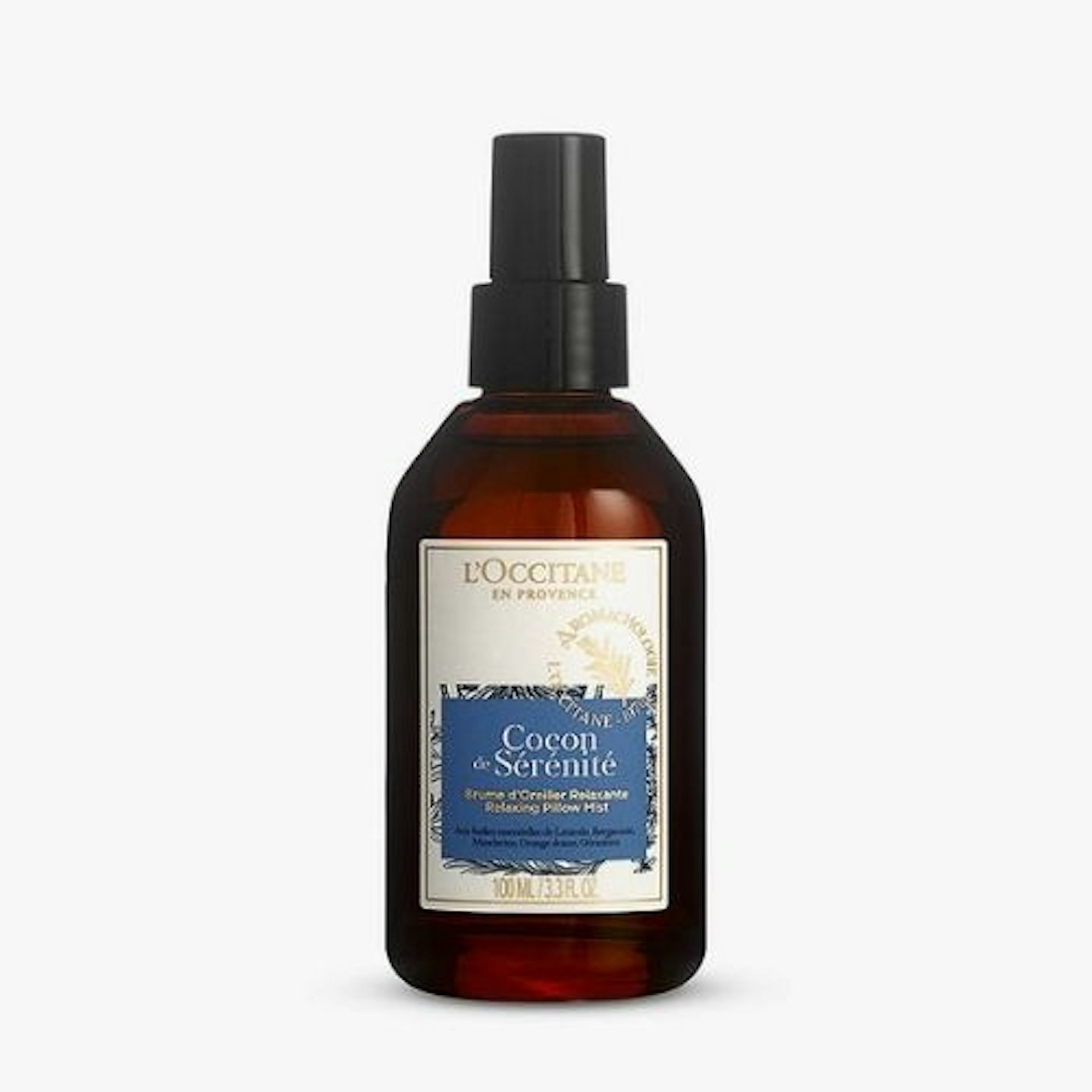 1 of 13
L'Occitane Aromachologie Relaxing Pillow Mist
L'Occitane's sleep spray aims to promote relaxation and well-being with the divine natural scent of this concoction of lavender, bergamot, mandarin, sweet orange and geranium essential oils.
Spritz in the bedroom 15 minutes before going to bed to ensure a peaceful sleep.
Ingredients: Lavender, bergamot, mandarin, sweet orange and geranium.
Size: 100ml
Review: "Gorgeous and relaxing. Love this pillow spray. A very relaxing fragrance. Always have trouble sleeping so use this pillow spray which definitely relaxes the senses. Close your eyes and think happy thoughts… would definitely recommend it."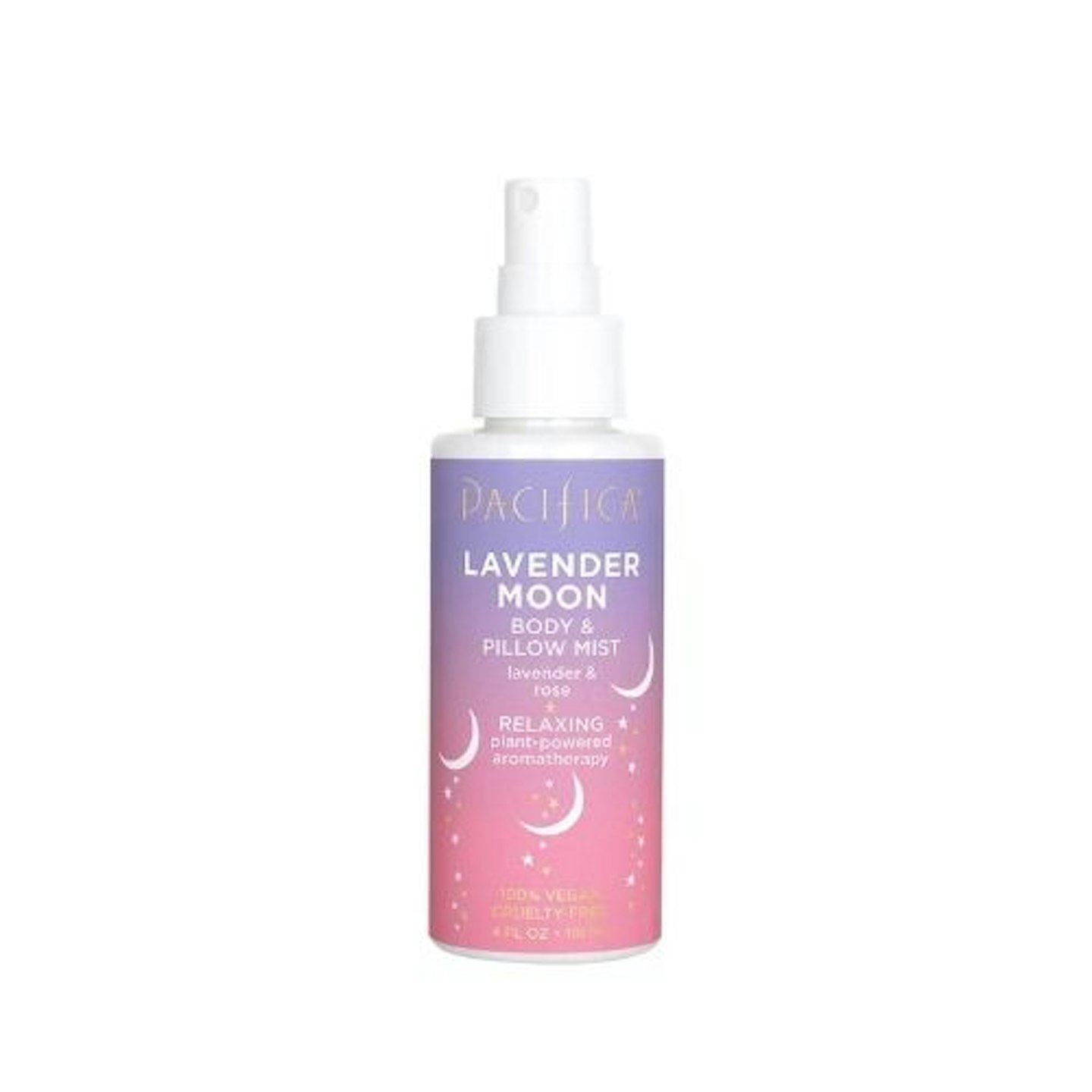 2 of 13
Pacifica Lavender Moon Body & Pillow Mist
Spritz! And get to bed… Overflowing with powerful essential oils, Pacifica's Lavender Moon Pillow Mist is a water-based spray designed to help you relax and get in your eight hours. We love this pillow mist's fresh and natural scent. Lavender is a favourite here at Spirit & Destiny. Plus, it's cruelty-free.
Ingredients: Aqua, glycerin, parfum, phenoxyethanol, polysorbate 20, ethylhexyglycerin.
Size: 118ml
Tried and tested by Commercial Content Writer, Piper Huxley: "This spray smells like a fresh lavender plant that you can brush past on the street. So breath-taking. I spritzed this onto my pillow before getting into bed and I felt calm and ready to sleep! Sometimes, I get restless when I go to bed - but this eliminated any stress I was feeling. This will stay on my bedside table."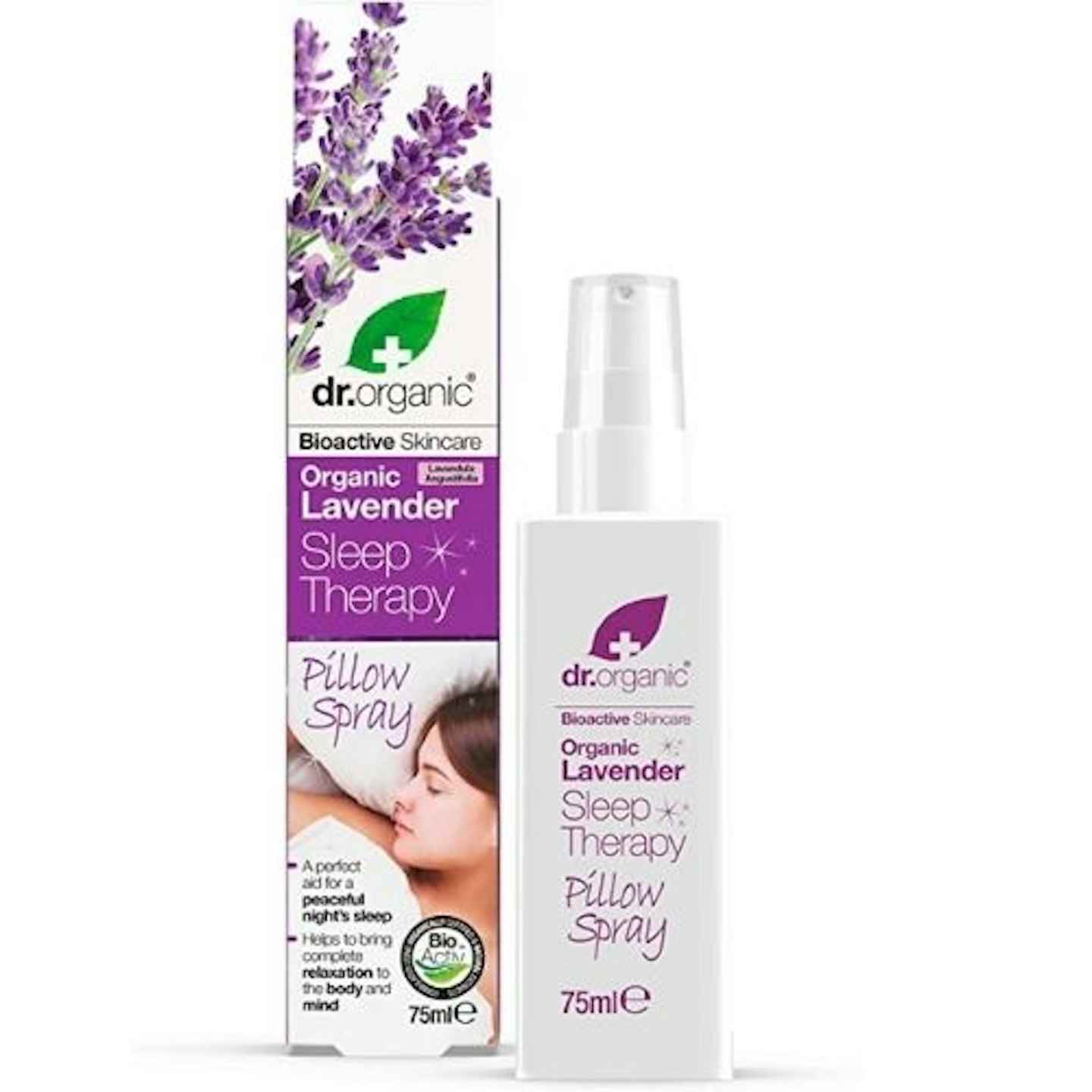 3 of 13
Dr Organic Lavender Sleep Therapy Pillow Spray
Though it's advertised as a lavender pillow spray, this product actually includes other essential oils to help you relax, including ylang-ylang, vetiver, patchouli, bergamot and Arabian jasmine.
Ingredients: Aqua, alcohol denat. (organic), polysorbate 20, coco-glucoside, lavandula angustifolia (lavender) oil, lavandula angustifolia (lavender) herb oil, cananga odorata (ylang-ylang) flower oil, vetiveria zizanoides (vetiver) root oil, pogostemon cablin (patchouli) leaf oil, anthemis nobilis (chamomile) flower oil, santalum spicata (Australian sandalwood) wood oil, citrus bergamia melarosa (bergamot) peel oil expressed, copaifera reticulata (copaiba) balsam extract, cupressus sempervirens (cypress) oil, jasminum sambac (Arabian jasmine) flower extract, juniperus virginiana (Cedarwood) wood oil, benzyl alcohol, citric acid, linalool, geraniol, limonene, benzyl benzoate.
Size: 75ml
Review: "I've tried other pillow sprays to little effect, but this one actually is amazing. I've never had a problem drifting off to sleep with this product. After breathing in the beautiful scent it actually induces a feeling of calm and soon I am fast asleep."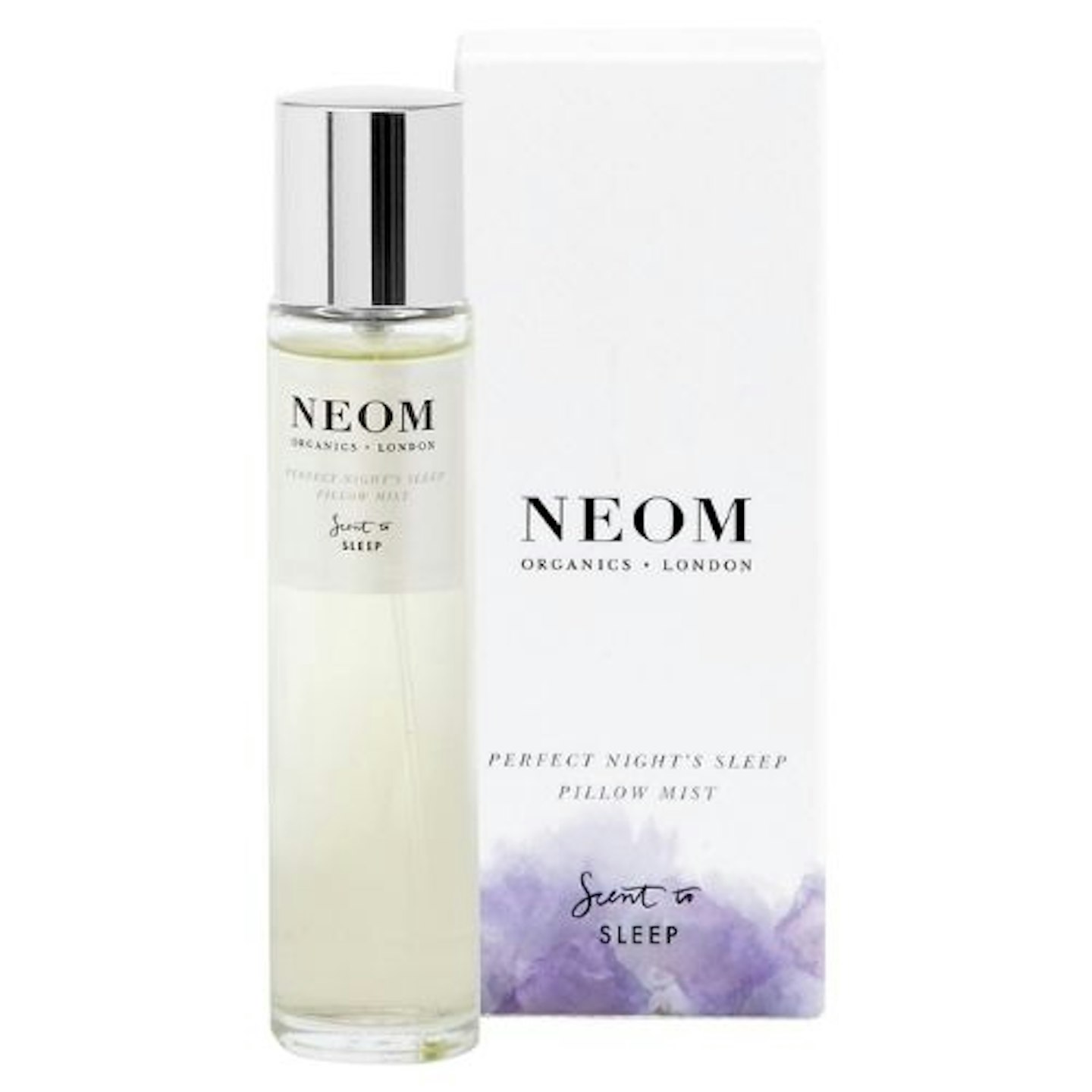 4 of 13
NEOM- Perfect Night's Sleep Pillow Mist Spray
The Neom Organics Pillow Mist is made from a blend of 19 organic essential oils from English lavender, sweet basil and jasmine. This blend has been formulated for use on your pillow to help create the deepest night's sleep. We love it!
Ingredients: Organic alcohol, English lavender oil, jasmine oil, chamomile oil, patchouli oil.
Size: 30ml
Review: "Absolutely in love with this product! I have purchased it several times and won't go to bed without it. This product from Neom helps you relax and easily fall into a deep sleep. Since using it I can't remember the last time I struggled to fall asleep!"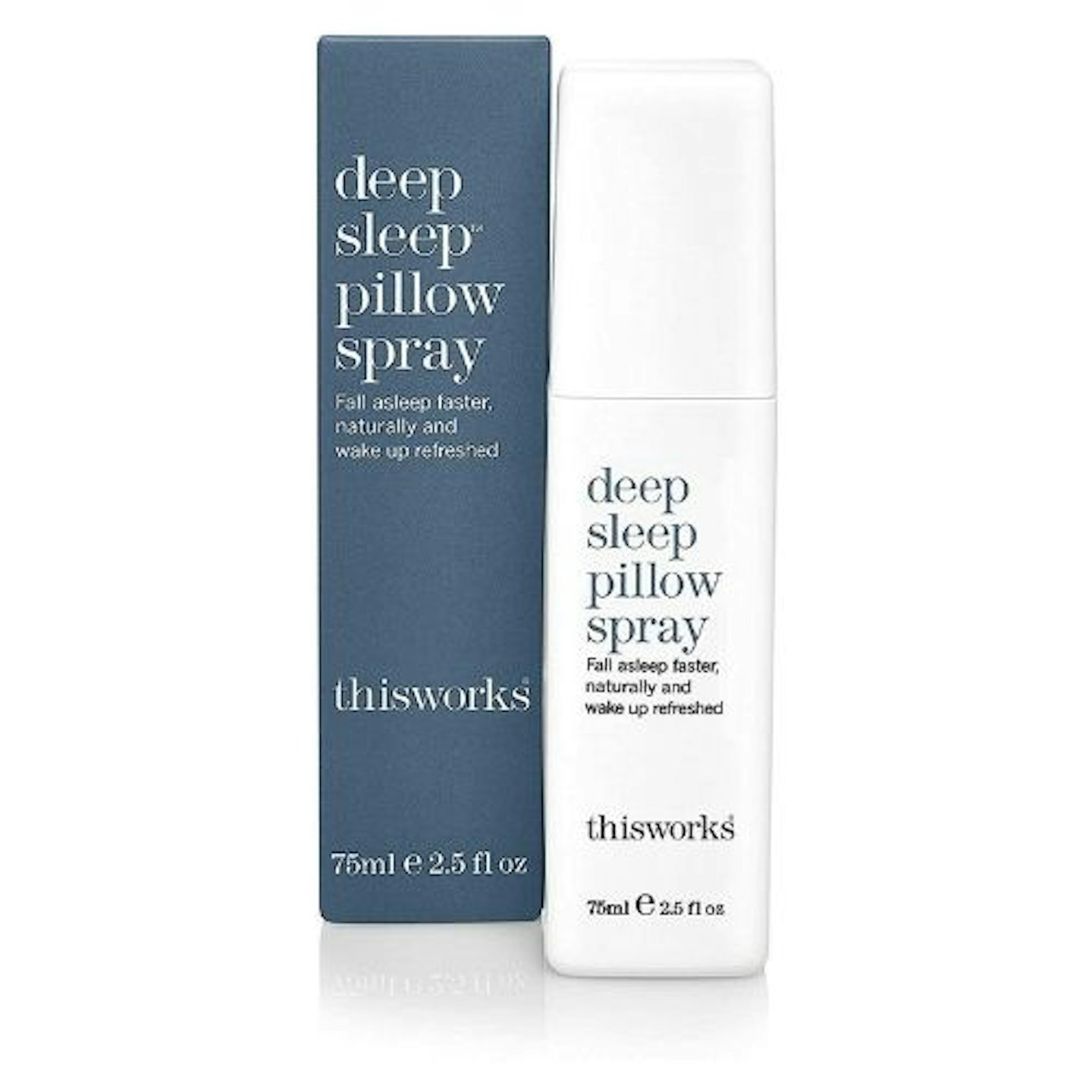 5 of 13
This Works Deep Sleep Pillow Spray
This award-winning pillow mist has proven results! In a study by This Works, 97 per cent of participants slept better after using the spray. That's high. It contains a calming blend of lavender, vetivert and chamomile, which promises you a good sleep and a refreshing morning after.
Ingredients: Fragrance mixture (linalool; linalyl acetate; vetiverols; ocimene; caryophyllene; terpentine-4-ol; beta-pinene; d-Limonene; 1-octen-3-yl acetate; geraniol).
Size: 75ml
Review: "This works! I'm not just saying that either - I have insomnia and this is the only pillow spray I've used that has actually worked. The lavender is really calming too. I'd recommend downloading the 'Calm' app and listening to their lavender field sleep story as you drift off - the two combined means I've had weeks of undisrupted sleep!"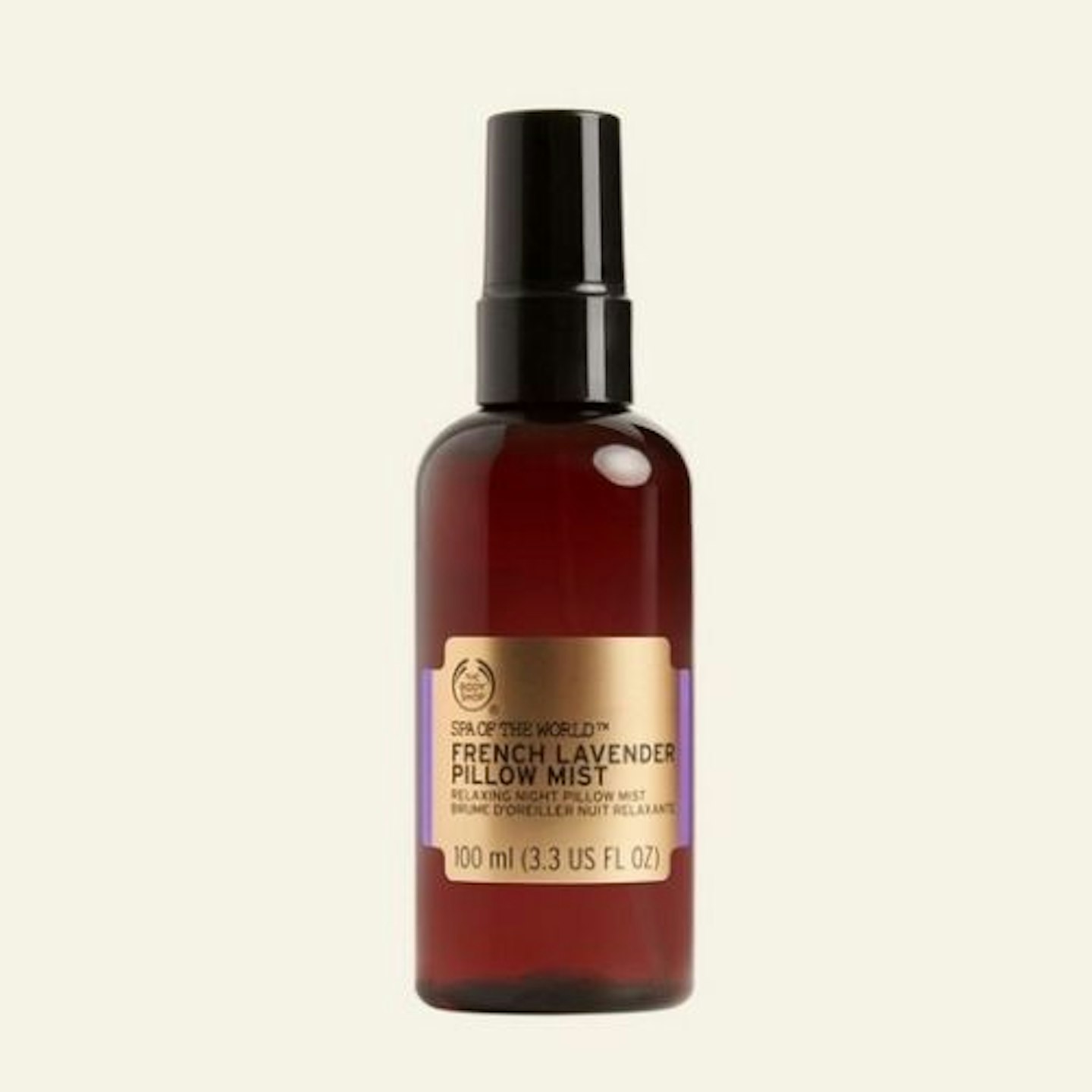 6 of 13
Spa of The World French Lavender Pillow Mist
Get your body and mind prepared for a night of total relaxation and peaceful slumber with The Body Shop's calming, lavender-scented pillow Mist. Simply, spritz. Close your eyes. Breathe in. Dream about purple fields of French lavender. And sheep, too, if that helps.
Ingredients: Lavender essential oil.
Size: 100ml
Review: "Gorgeous smell that helps relax you into slumber. I just really like the smell on my pillow at night."
7 of 13
REN & Now to Sleep Pillow Mist Spray
Drift into a relaxing slumber with this calming mist that blends several unique essential oils to help a good night's sleep. Suitable for everyone: this pillow mist's soothing blend of frankincense, hops and lavender relieving muscle tension and aid rest. Sounds gorgeous!
Ingredients: Aqua (water), polyglyceryl-4 caprate, propanediol, parfum (fragrance), juniperus mexicana (cedarwood) oil, Boswellia carterii (frankincense) oil, lavandula angustifolia oil, pelargonium graveolens oil, cananga odorata macrophylla (ylang-ylang) flower extract, humulus lupulus oil, sodium benzoate, potassium sorbate, lactic acid, benzyl benzoate, citral, citronellol, geraniol, limonene, linalool. 100 per cent natural fragrance.
Size: 75ml
Review: "My boyfriend bought me this pillow spray as I have been struggling to fall asleep. I absolutely love the scent of this product; it is so relaxing and therapeutic and has made such a difference. I would definitely recommend it!"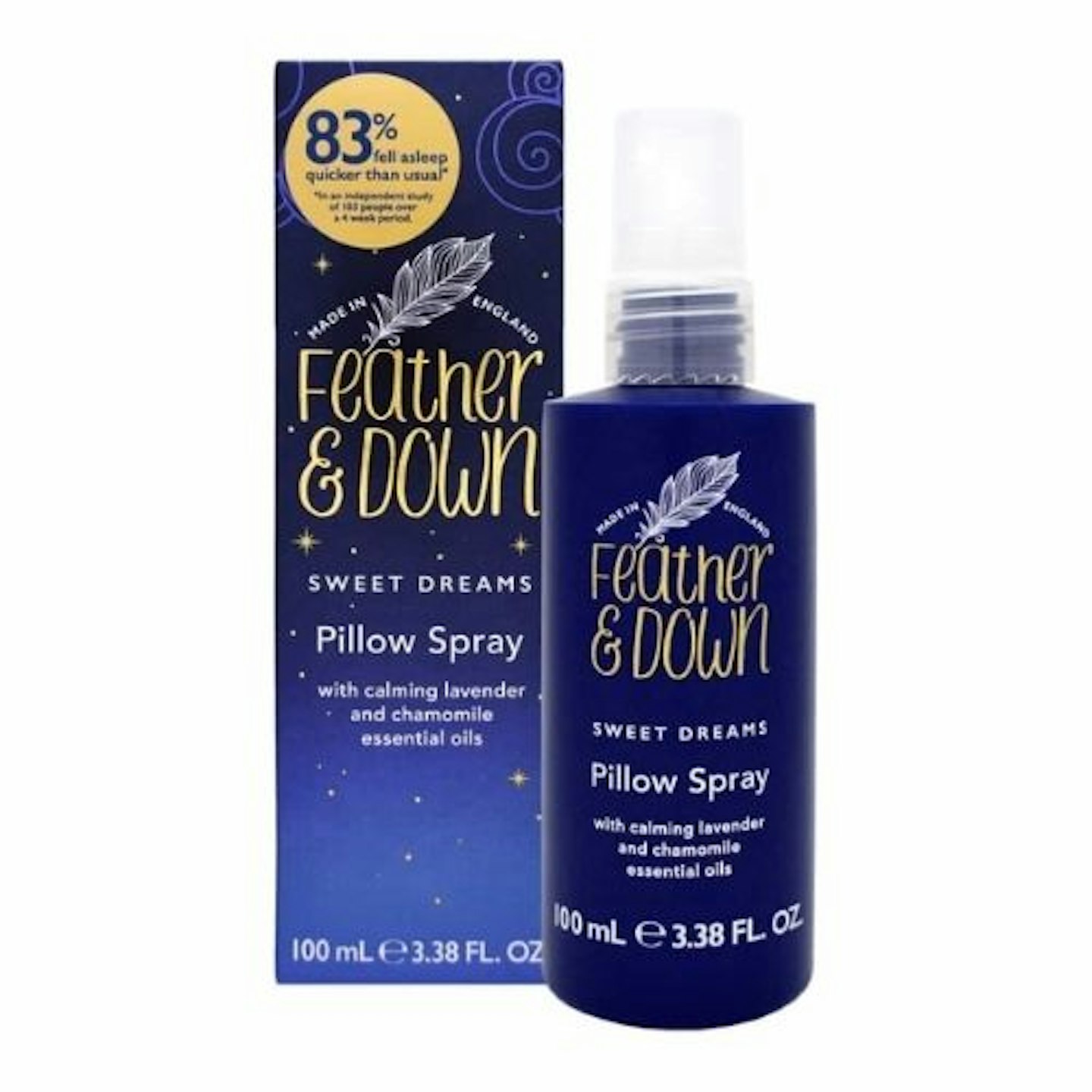 8 of 13
Feather & Down Sweet Dreams Pillow Spray
Feather & Down's sleep mist infusion of lavender and chamomile will soothe your anxiety and allow you to drift off into a peaceful sleep. Sink into your pillow and let this affordable mist work its magic.
Ingredients: Aqua (water), parfum (fragrance), PEG-40 hydrogenated castor oil, trideceth-9, sodium benzoate, disodium EDTA, citric acid, propylene glycol, 2-bromo-2-nitropropane-1,3-diol, anthemis nobilis flower oil, lavandula angustifolia (lavender) herb oil, linalool, coumarin, alpha-isomethyl Ionone, limonene.
Size: 100ml
Review: "I admit I was sceptical about purchasing a sleep spray; however, this product has genuinely helped me to relax so I can fall asleep quicker. It has just the right amount of fragrance and isn't overpowering. It's a convenient size to keep beside your bed or even travel with as well. I personally will use it again. It's worth a try."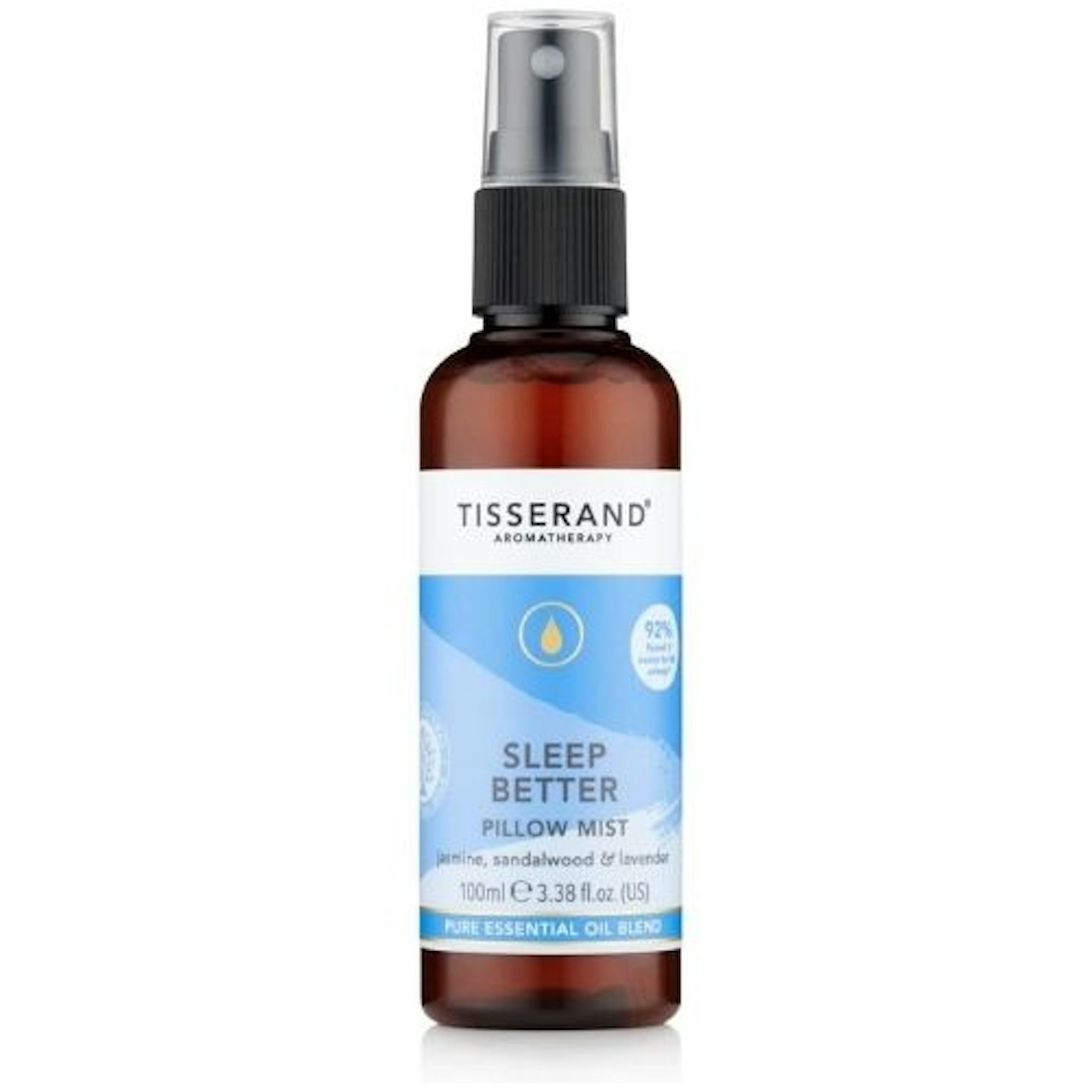 9 of 13
Tisserand Aromatherapy Sleep Better Pillow Mist
This award-winning natural pillow spray is a dreamy blend of jasmine, sandalwood and lavender essential oils that will ensure you wake up feeling refreshed and recharged. Get some rest!
Ingredients: Lavandula angustifolia (lavender) oil, copaifera reticulata (copaiba) balsam extract, cedrus deodara (cedar) wood oil, cupressus sempervirens (cypress) leaf oil, santalum spicatum (sandal) wood oil, citrus aurantium bergamia (bergamot) peel oil, jasminum officinale (jasmine) flower oil, cananga odorata (ylangy-ylang) flower oil, linalool, limonene, geraniol, benzyl benzoate, benzyl salicylate, citral, farnesol, eugenol, benzyl alcohol, isoeugenol.
Size: 100ml
Review: "I have struggled with sleep since I was a teenager and particularly when I am stressed around exams or deadlines. I have tried a wide range of techniques, medications and herbal remedies but this one is definitely the best so far. Spray generously onto the pillows and over the duvet and snuggle down, you can feel yourself unwind as you breathe in the essential oils."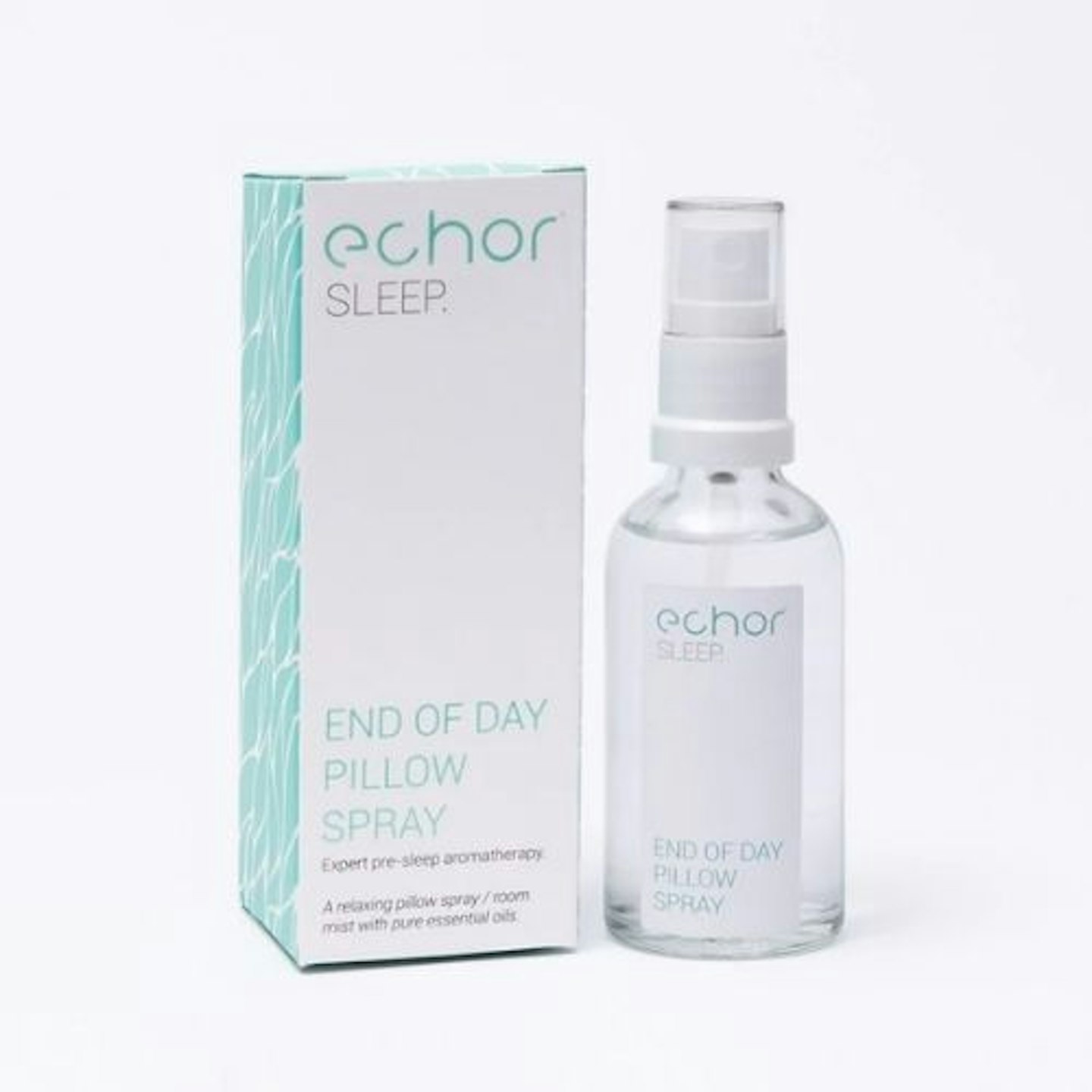 10 of 13
Echor End of Day Pillow Spray
Cruelty-free and vegan, this mist is bound to leave you feeling refreshed when you wake. Not only is this gorgeous lavender pillow spray scientifically proven to help you get a better night's sleep, but it also contains strong, natural soothing essential oils that will set the mood before you drift to sleep.
Ingredients: Lavender, Geranium, Eucalyptus and Sweet Orange to let your stress fade away as you fall asleep.
Size: 50ml
Tried and tested by Commercial Content Writer, Ellen Kinsey: "This beautifully fragrant spray sets the mood before you go to sleep. I spray my bedsheets or pillow five to ten minutes before I get ready to go to sleep. The scent can be very strong at first, so make sure to spray your pillow at some distance so it can be sprayed evenly. The scent settles after five minutes, and it genuinely helps to relax you and send you to sleep."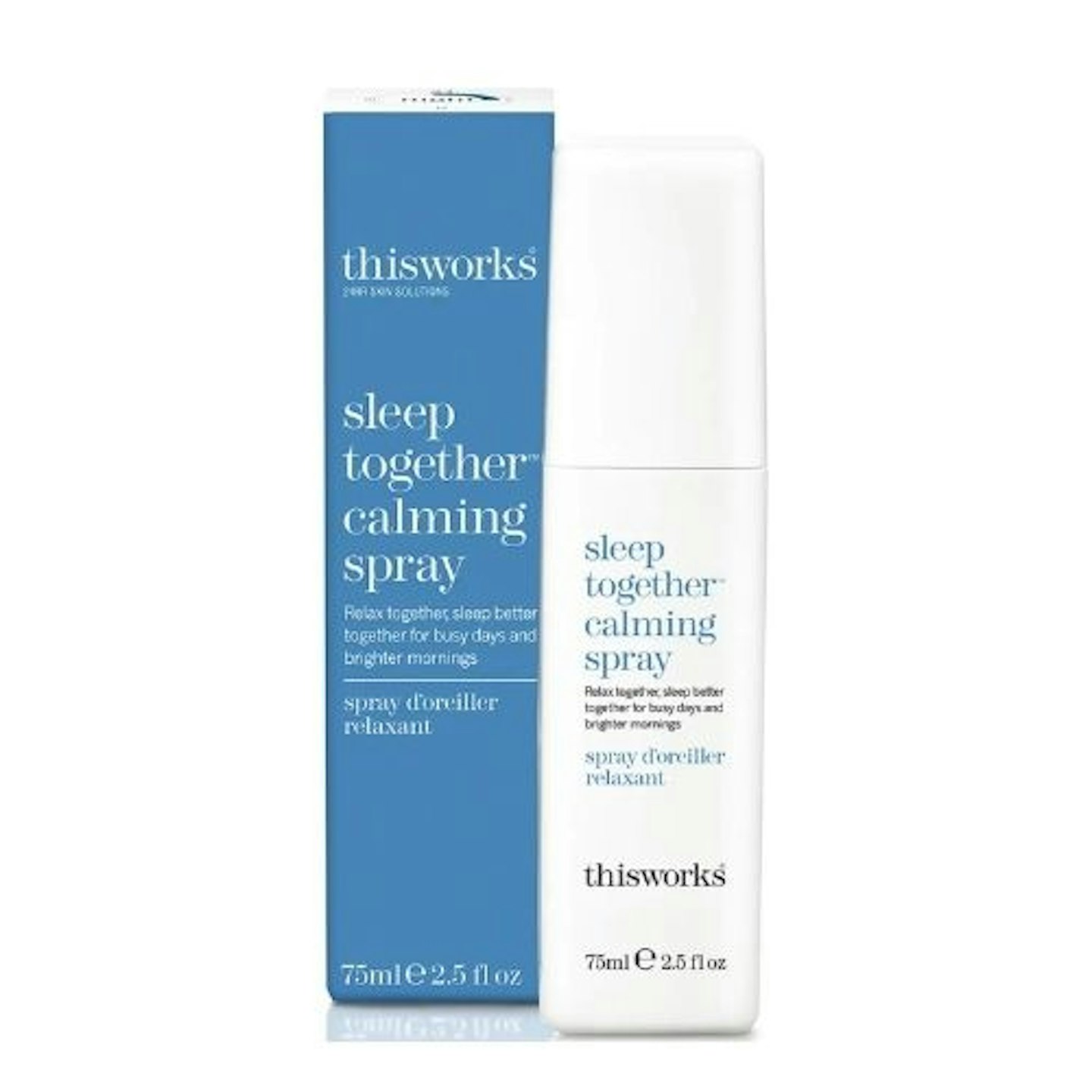 11 of 13
This Works Sleep Together Calming Spray 75ml
We love this spray from This Works. It features the scents of lavender, chamomile and vetivert. The brand helpfully explains that it's suitable for children from six months old, and pets too. Sweet dreams for all.
Ingredients: Fragrance mixture (Linalool; Linalyl Acetate; Vetiverols; Ocimene; Caryophyllene; Terpinene-4-ol; beta-Pinene; dLimonene; 1-Octen-3-yl acetate; Geraniol)
Size: 75ml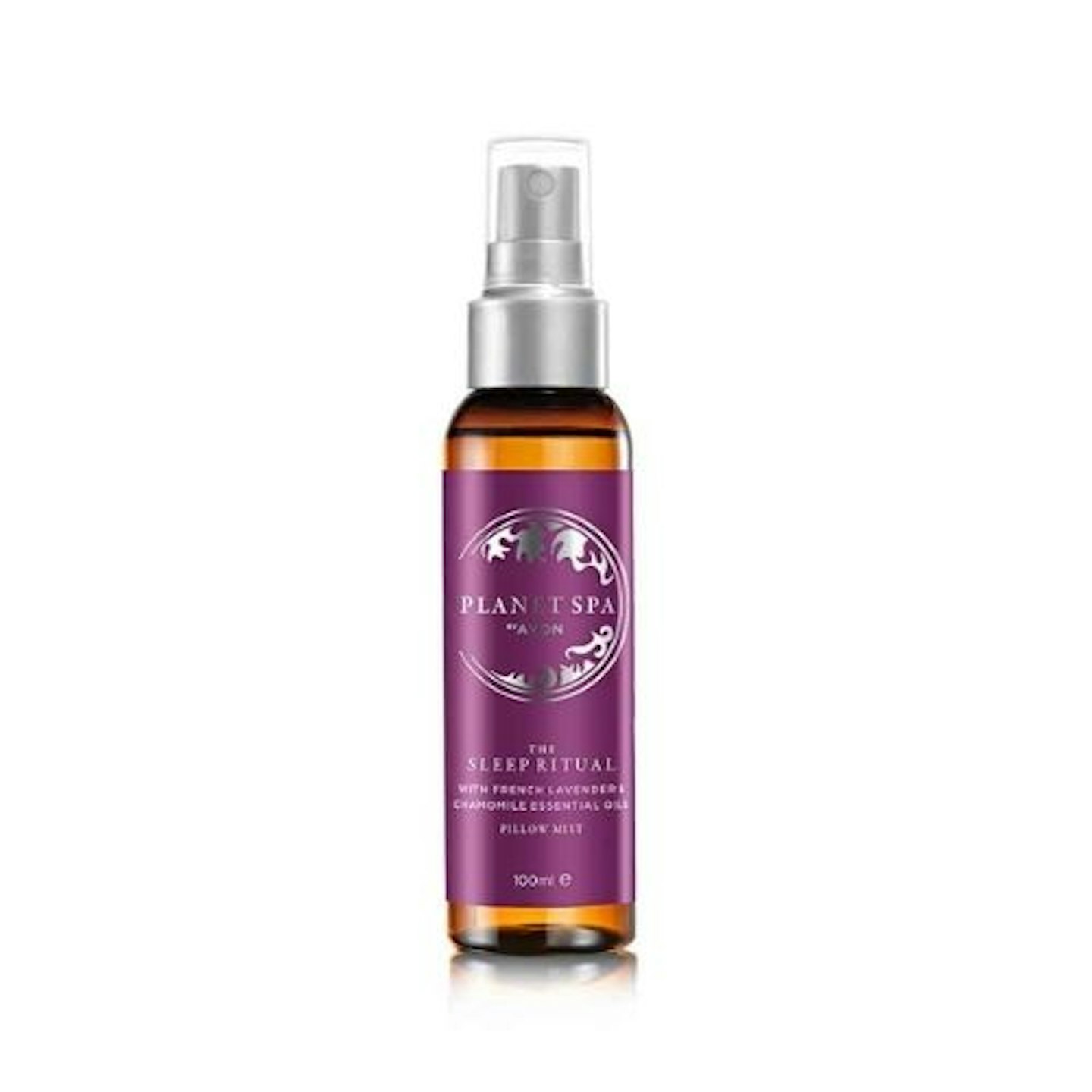 12 of 13
Aromatherapy Beauty Sleep Pillow Mist: Lavender & Chamomile
Featuring the relaxing scents of lavender and chamomile, this affordable pillow mist is popular and aims to relax you as soon as that spritz hits your bed linen. Get the beauty sleep you deserve!
Ingredients: French lavender and chamomile.
Size: 100ml
Review: "Very lovely product. Works well, does the job, really good bargain for what it does, makes the room smell nice as well when I'm sleeping."
13 of 13
Lush Twilight Body Spray
When this body spray was launched, customers praised this product as the perfect body mist. It even went viral and sold out almost immediately. But it's back in stock now. It contains lavender, sweet tonka, and ylang-ylang. If you're a fan of Lush, this will definitely help you get back to your dreams.
Ingredients: Organic DRF alcohol water (aqua), perfume glycerine lavender oil, linalool benzoin, resinoid tonka, absolute ylang-ylang oil, benzyl benzoate, benzyl cinnamate, benzyl salicylate, cinnamal, coumarin, eugenol, farnesol, geraniol, isoeugenol, limonene.
Size: 200ml
Review: "A hug in a bottle. Bought a bottle to use as a pillow spray to try and improve my sleep and help my daughter stress a little less at bedtime (GCSE time!) and it makes the room smell amazing. It is now my favourite Lush scent. It just smells so comforting! It's like wearing my favourite jumper and slippers to work. Recommend if you need to 'wear a hug'.
FAQS
Do these pillow sprays and sleep mists work?
The brand This Works, which has a range of sleep sprays (featured in our list below), has conducted research into how and why pillow mists are so effective at helping us get to sleep.
This Works says: "We decided to support an independent functional MRI (fMRI) brain-scan study… During the study… our Deep Sleep fragrance also activated specific areas of the brain associated with pleasure and calmness, enabling the research team to propose that the fragrance could evoke feelings of social comfort, trust, and calmness - conceivably impacting sleep."
Are pillow sprays safe?
In short, yes. Pillow sprays are safe for most adults. Just avoid contact with the eyes and skin.
Don't use a spray on a silk pillow, though. It could ruin the fabric.
How do I use my pillow spray or sleep mist?
Generally, you should be spritzing your pillow mist at least 15 to 30 minutes before you go to bed.
It gives the essential oils a chance to mix with the surrounding air and infuse with your pillow.
You will wake up feeling recharged after such a peaceful night's sleep.
What about allergies?
Some people are allergic to lavender. It can be a common allergy that could cause all the symptoms of a general allergy: itchiness and sneezing – sometimes a cough. If you're unsure whether you have an allergy to lavender, why not try a pillow spray that is lavender-free?
Typically, allergies that affect you at night are usually down to mites and dust in your pillow. To combat this, make sure to wash your bedding regularly and at a high temperature.
Does it have to be lavender?
Not everyone likes lavender – and that's OK! Essential oils are individual and work differently for everyone. Make sure to try different scents and find what's best for you before you settle.
Are there any alternatives to a pillow spray or sleep mist?
Description
Why not try an aromatherapy diffuser?
These work with ultrasonic systems to turn the water
Description
Candles are another great way to prepare your room for bed. There's plenty about, too. We love
Description
Personally, we love incense. It's a great option if you don't like a candle. A stick usually lasts
Description
Make sure to get a holder, too. We love this handmade and recycled one from Etsy.