The best herbal teas will always hold a special place in our kitchen. Teas steeped in tradition offer more than just a warming, nourishing drink. They are a great way to drink the healing power of plants and can help bring you feelings of calm to aiding illnesses. From boosting immunity to aiding digestion to calming the mind and invigorating the senses, herbal teas' benefits are as diverse as the herbs themselves. We have rounded up the best teabags enclosing herbs and spices that have long been revered as natural remedies, their potent properties harnessed to heal and nourish the body.
Herbal teas are a delightful way to tap into this ancient wisdom, allowing us to incorporate these remedies into our daily routines. There are digestive aid herbs like the best peppermint tea or ginger to soothe a bad stomach. Through to soothing chamomile and ashwagandha tea - we are here to help you find the best teas for your pantry.
Best herbal tea at a glance
• Best blend for sleep:  Clipper Organic Infusion Snore and Peace - View on Amazon UK
• Best for anxiety: Teapigs Chamomile Tea Made With Whole Flowers - View on Amazon UK
• Best for digestion: Yogi Tea Stomach Ease - View on Amazon UK
• Best for detoxing: Traditional Medicinals Tea Organic Dandelion - Amazon UK
Our guide to the best herbal teas has been chosen for its unique benefits and healing properties. Whether you're seeking a calming brew to ease anxiety, the best teas for sleep, or a comforting herbal drink to alleviate period cramps, there's a tea for every need.
All these teas are herbal and caffeine-free, but if you are looking for the best black tea, we also have a guide to that too. Teas offer a natural, nurturing way to support our health and wellbeing, so here are our best for sleep, anxiety, digestion, immunity and menstrual health to help you feel cosy from the inside out.
Best herbal tea for sleep
Herbs for sleep: Chamomile, Lemon Balm and Lavender
Best blend for sleep
Description
If you need a little help to get some shut-eye, this chamomile tea is a classic choice for
Pros
Made with organic chamomile and lavender
20 individually wrapped tea bags
Good for sleep
Cons
Some reviewers found the flavour to be weak - depending on preference
Best sweet tea for sleep
Description
This herbal tea can be a perfect addition to your nighttime routine, helping you drift off into a
Pros
Caffeine-free
Made with chamomile, lavender, and lemon balm
Herbs for sleep
Best herbal tea for anxiety relief
Herbs for anxiety: Chamomile, Valerian, and Passionflower
Best for uplifting effects
Description
A blend of it chamomile, lemongrass, lemon balm and valerian, this is an excellent choice for
Pros
Caffeine-free
Made with lemon balm, chamomile, and rosehip
Good for stress relief and calming the mind
Silk tea bags
Cons
May not be to everyone's taste
Best for calming properties
Description
When it comes to easing anxiety, chamomile tea is a popular choice. Its calming effects can help
Pros
Made with organic chamomile flowers
Good for sleep and relaxation
50 individually wrapped silk tea bags
Best CBD tea
Description
This box features a range of CBD teas and infusions designed to be enjoyed at different times of
Pros
Contains 15mg of CBD per tea bag
Range of CBD teas and infusions for different times of the day
Silk tea bags
Calming effects
Best herbal tea for digestion
Herbs for digestion: Peppermint, Fennel, Chamomile, and Ginger
Best for digestion
Description
Ginger tea, with its naturally fiery flavour, is a potent digestive aid that can help with
Pros
Made with ginger, fennel, and cardamom
Good for digestion and nausea
The paper is FSC-certified
Cons
Some may prefer silk tea bags to paper
Best for bloating
Description
Peppermint tea is a global favourite for its digestive benefits - and this blend of three mints is
Best for after dinner
Description
With its sweet, liquorice-like flavour, Fennel tea is also known to aid digestion and relieve
Pros
Made with organic fennel seeds
Energising
Good for digestion and bloating
Cons
Some may not like the liquorice taste
Best anti-inflammatory tea
Description
Ginger tea is a potent digestive aid with its distinctly spicy flavour. It's known to improve
Pros
Made with ginger, turmeric, and fig
Good for digestion and nausea
Anti-inflammatory
Cons
Some may prefer silk tea bags
Best herbal tea for cold and flu relief
Best herbs for immunity: Echinacea, Ginger, Sage and Peppermint
Best for cold symptoms
Description
Echinacea tea, made from the flowers, leaves, or roots of the echinacea plant, is known to help
Pros
Organic
Caffeine-free,
Immune-boosting
Nice taste
Cons
Some may not like the taste
Best for sore throat
Description
Sage tea, made from the leaves of the sage plant, is a traditional remedy for sore throats and
Pros
Variety of ingredients for a balanced blend
Oregano is anti-bacterial
Sage is good for sore throat
Best herbal tea for heart health
Best for herbs for antioxidants: Hibiscus and Rooibos
Best for heart health
Description
This heart-opening tea is not only beautiful but works wonders for the body. Hibiscus tea, known
Pros
Organic
Tart and refreshing taste
Heart healthy
Cons
Some may prefer silk tea bags
Best for antioxidants
Description
Rooibos tea, a South African herbal infusion known for its rich, earthy flavour and high
Pros
Antioxidant-rich tea
Sweet
Cons
Some may not like the taste
Best herbal tea for menstrual health
Best herbs for detox and Menstrual cycles: Raspberry Leaf and Dandelion
Best for detoxing
Description
If you are looking for a tea that supports kidney function and healthy digestion - dandelion is a
Pros
Supports urinary health
Detoxifying
Organic
Best for PMS
Description
Raspberry Leaf tea, made from the leaves of the raspberry plant, is often recommended for women's
Pros
Refreshing sweet taste
Helps with cramps
Organic
Cons
Some may prefer silk tea bags
Buyer's guide: best herbal tea
What are the benefits of drinking herbal tea?
Cara Shaw, Nutritional Therapist at CRS Nutrition, tells us that plants or plant parts found in herbal teas can be highly concentrated in phytochemicals with numerous beneficial therapeutic effects. She says: "These include reducing feelings of stress, relieving stomach gassiness, boosting immunity, or invigorating and refreshing the body and mind, resulting in an energy boost."
How do the medicinal properties of herbal tea work?
"Each herb contains a variety of phytochemicals that offer a range of effects or 'actions' which can help with a range of health and wellbeing issues", says Cara. "For example, chamomile can reduce feelings of stress and anxiety by relaxing the nervous system. It is also anti-spasmodic, so it can give relief from gas and bloating. Lastly, it is also anti-inflammatory."
What are the ingredients to look out for in a tea :
Cara says that certain herbs have specific healing properties. Here is a quick guide to which herbs could target specific areas of your health.
Sleep – chamomile and lavender. Here is our guide to the best chamomile tea.
Anxiety – chamomile, valerian, and passionflower
Digestive issues – peppermint, fennel, chamomile, and ginger
Energy – liquorice and ginseng
Cold/ Flu – fennel, ginger, liquorice, echinacea and turmeric
Skin – nettle and spearmint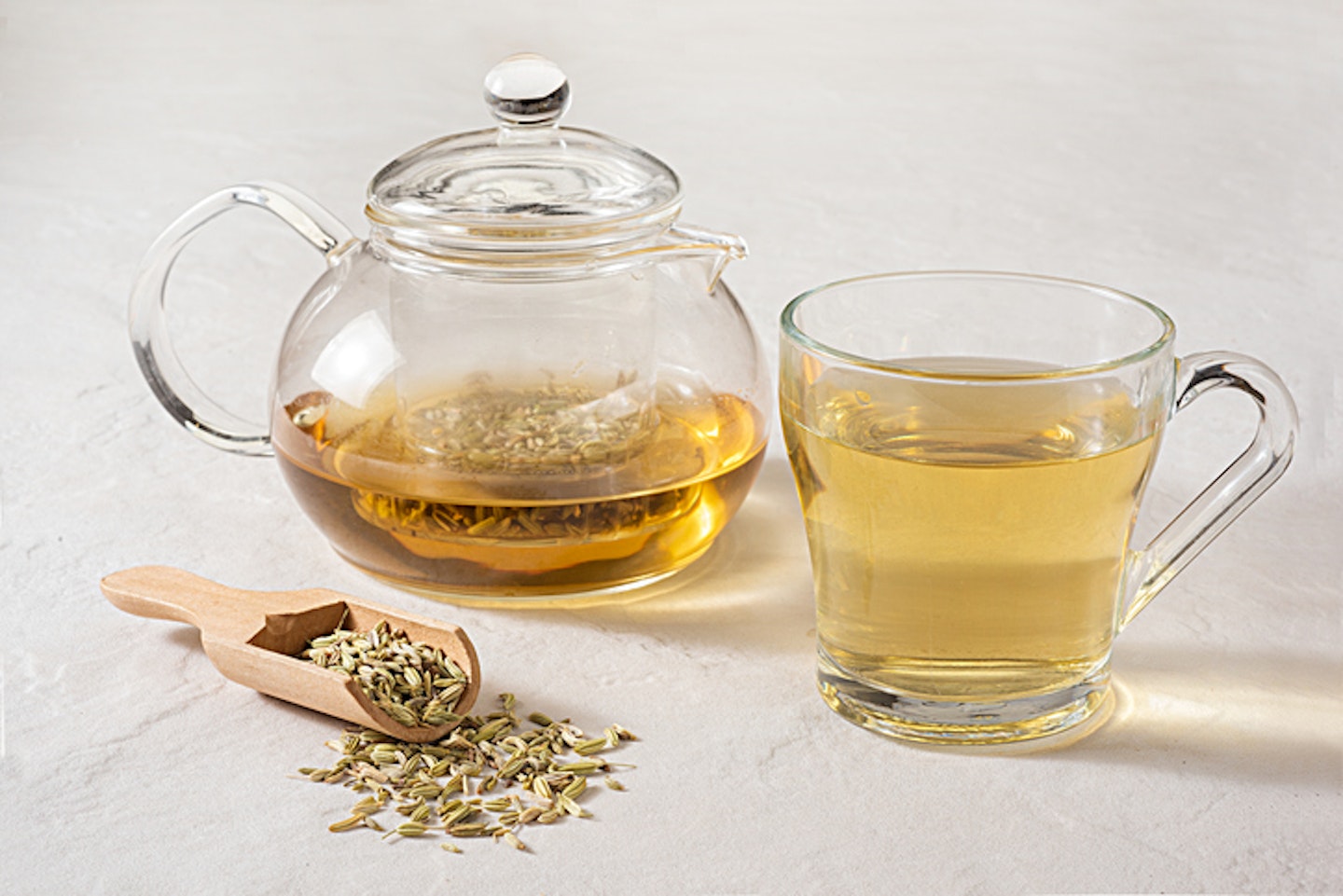 How does CBD work in tea?
Urvashi Agarwal, Founder of artisan tea brand JP's Originals, states that CBD is a naturally hydrophobic compound, meaning it does not dissolve in water. Urvashi says that this means its bioavailability is low (the rate at which it is absorbed into the bloodstream), and the majority of CBD consumed is being discarded by the body.
"A good quality CBD team, such as the CBD Trinity from JP's Originals, includes CBD in a water-soluble form, allowing the full 15mg of CBD in the blends to be absorbed by the body. As soon as the tea pyramid is steeped in hot water, the CBD in its water-soluble form dissolves and steeps with the natural herbs and ingredients, ready for you to enjoy."
Ellen Kinsey is a senior health and wellness product writer for Spirit & Destiny, specialising in natural health, beauty, and self-development. She lives and breathes all things spirituality, travel, holistic health and wellness.
Subscribe to the Spirit & Destiny Newsletter to keep up to date with our latest recommendations and wellness trends from the Spirit & Destiny team.