Manifestation isn't magic – it's our superpower if we learn how to harness it – and crystals are an excellent tool to help you on your way. In this guide, we break down how to use the best crystals when doing your manifestation practices and the best crystals for manifesting money, love, health and your hopes and dreams. We have also recruited help from Nicci Roscoe, a holistic health and wellbeing practitioner, manifestation expert, and author Manifest Your Everything, to offer her tips and practical advice on letting go, learning to love yourself and starting to live your dream life as well as how to use crystals in your manifestation practice.
Whether you're looking at crystals for beginners or healing crystals to start you off on your manifestation journey, we've covered all avenues. But first, to gain an understanding of manifestation, let's start by explaining what manifestation is. Essentially, manifestation is when you bring something tangible into your life through attraction and belief. According to Gabrielle Bernstein, author of Super Attractor and The Universe Has Your Back, "Manifesting is also known as co-creating because it's a collaboration between you and the Universe."
Best crystals for manifesting at a glance
• Best crystals for manifesting creativity: Raw Citrine – View on Etsy UK
• Best crystals for manifesting finances: Green Aventurine – View on Etsy UK
• Best crystals for manifesting self-love: Raw Rose Quartz – View on Etsy UK
Everything is energy, and we, as spiritual beings, have the innate power within us to master it. Once you realise that everything is energy, you can manifest anything into your life. Everything your heart desires can be yours if you believe that what you want is already yours. Alternatively, there are crystals that are healing...
There are many ways we can manifest our soul's desire: from visualisation, scripting, meditation and crystals. While everyone approaches manifestation differently, at the heart of it, there are the same principles; you must be clear about what you want. Below are some tips on how to start manifesting. Make sure to scroll down to read Nikki's invaluable guide to all things manifestation. So without further ado, here is our guide for crystals that will help manifest your desires, their properties and where you can buy high-quality specimens.
Best crystals for manifesting and where to buy them
Crystals that help manifest money, finances and success
Pyrite: This crystal is believed to attract abundance and increase feelings of motivation in your career.
Citrine: If you are looking for a crystal to promote wealth and success, then this crystal helps foster creativity, inspire ideas and generate money.
Green aventurine: Often known as the stone of opportunity, this stone will help you attract aligned money-making opportunities.
Best crystals for manifesting motivation
Description
Used for strength, patience and determination, these stunning tumbled pyrite crystals will help
Pros
Comes with an information card
Cons
May vary naturally between stones
Best crystals for manifesting creativity
Description
Citrine is a powerful cleanser and regenerator. Let these warming yellow stones ignite the
Cons
Delivery may take some time
Best crystals for manifesting finances
Description
These lovely mini green aventurine tumbled stones are perfect for slipping into your pockets and
Pros
Also associated with the heart chakra
Cons
Smaller than expected for some
Crystals that help manifest love
Rose quartz: Naturally, rose quartz had to make it to this list as it is one of the most popular crystals for attracting love and increasing feelings of self-love.
Pink kunzite: This helps strengthen and grow unconditional love and affectionate communication.
Rhodonite: If you are looking for a crystal to help heal emotional wounds like heartbreak, this will help just that.
Best crystals for manifesting self-love
Description
This pink raw quartz of compassion is a lovely emotion balancer which will help you to ground your
Cons
May be smaller than expected
Best crystals for manifesting emotional healing
Description
This beautiful and vibrant stone has emotional healing properties that will help you manifest love
Pros
Associated with the heart chakra
Cons
May vary naturally between stones
Best crystals for manifesting healing from heartbreak
Description
Rhondite helps heal heartbreak, and these tumbled smooth crystals are also associated with
Pros
Comes with an information card
Cons
May vary naturally between stones
Crystals that help manifest good health
Obsidian: If you would like a crystal to help remove blockages in your body and enhance the better circulation of energy and flow, this is a great energy shifter.
Quartz: Often known as the 'master healer,' quartz brings about an optimum vibrational state for healing and is perfect for your overall health.
Amethyst: Beautiful amethyst is soothing and calming and is an excellent tool for working with stress, tension or fear.
Best crystals for manifesting protection
Description
These black obsidian tumbled stones clarify the mind, clear confusion and stop environmental
Pros
Different sizes to select from
Cons
May vary naturally between stones
Best crystals for manifesting higher vibrations
Description
Clear quartz is composed of silicon dioxide, also known as a rock crystal or ice crystal. It has
Cons
No product-specific reviews
Best crystals for manifesting calmness
Description
These high-quality Amethyst Druzy clusters are from Brazil. They are a powerful and protective
Pros
Different sizes to select from
Cons
May vary naturally between stones
Crystals that help manifest dreams and desires
Celestite: This gorgeous crystal may help you connect to the divine and enables you to remember your dreams. This can help you dig deep into your subconscious and is helpful for processing emotions.
Iron pyrite: Iron pyrite is an excellent tool to work with if you want a way to remove feelings of inadequacy that prevent you from accomplishing your dreams.
Clear quartz: Again, quartz can help you gain clarity on what you want and is believed to raise your vibration to match your deepest desires.
Best crystals for manifesting dreams
Description
In this heavenly celestite cluster, each piece is (200-250g). As you can see from the product
Cons
May vary naturally between stones
Best crystals for manifesting accomplishment
Description
Historically, Pyrite was considered a magic stone and a stone of protection which will help you
Best crystals for manifesting clarity
Description
The crystals are between 3-7cm and can be used in Reiki sessions and meditation to focus collected
Cons
One reviewer reported issues with quality
Manifestation 101 from Nicci Roscoe
Manifestation can be done in a variety of ways, such as prayer, meditation, visualisation, speaking your intentions out loud, creating a vision board, scripting, journalling - the list goes on. We spoke to Nicci Roscoe, author of her newly released book, Manifest your Everything, to bring to you a thorough guide to all things manifestation and creating your own reality.
So what is manifestation? Nicci says: 'Manifesting is an exciting and powerful process that helps you receive what you really want by focusing your intent on it and making it happen.'
Here is how Nicci breaks it down. 'There are different ways to help you manifest and send out positive messages to the universe when you are ready to receive after you release all that doesn't serve you. You will then be able to clear your mind, body, and spirit of any blockages and become open to the many wonderful possibilities of manifesting. '
Tip one: Get clear on what you desire
'If you procrastinate and aren't sure what you want, the universe will keep giving you things you're not sure of. Once you know what you are wishing for, stay focused on it. It's important to focus on one thing at a time. Maybe it's happiness, abundance, love and romance, or a new job. Or perhaps there are other areas in your life that you crave to change. This may take time as you slowly work through this beautiful process of releasing, renewing, and receiving.'
When it comes to manifestation - clarity is key. Be clear about how you want this outcome to feel and release the expectations of it being exactly how you envisioned it to allow for it to be better than you could possibly imagine.
'Believing in yourself, trusting in the process, and releasing negative thoughts, feelings, and memories that don't serve you will give you so much more peace, calm, and confidence. Once you are in this place of openness, belief, and trust, you are ready to Manifest.'
Tip two: Believe you are worthy
'It is also important to remember what you manifest may not happen in the next day, month, year, or longer; it will happen if you believe, and it is right for you,' says Nicci. 'Be patient, trust the universe has heard you, and never give up hope. If the universe senses you're not sure and your vision isn't right for you, your dream won't happen. I'm a huge believer in receiving what is meant to be when the time is right. It's important to know in your heart what you really want. There are many ways to manifest what you are wishing for. '
'This powerful process for manifesting is something I have been working with for many years and seen magical results with so many I have worked with. The first part is letting go and saying goodbye to anything that no longer serves you.'
Tip three: Release what is no longer serving you
Here is an exercise Nicci offers in her workshops. 'In my Love Yourself workshop, I ask everyone to write down all that has been hurting them and everything they are carrying that is a burden. Everyone then puts this into a large cauldron with sage for cleansing and rose petals for love, and we watch it burn. This special 'burning ceremony' can be very emotional and, at the same time, incredibly freeing.'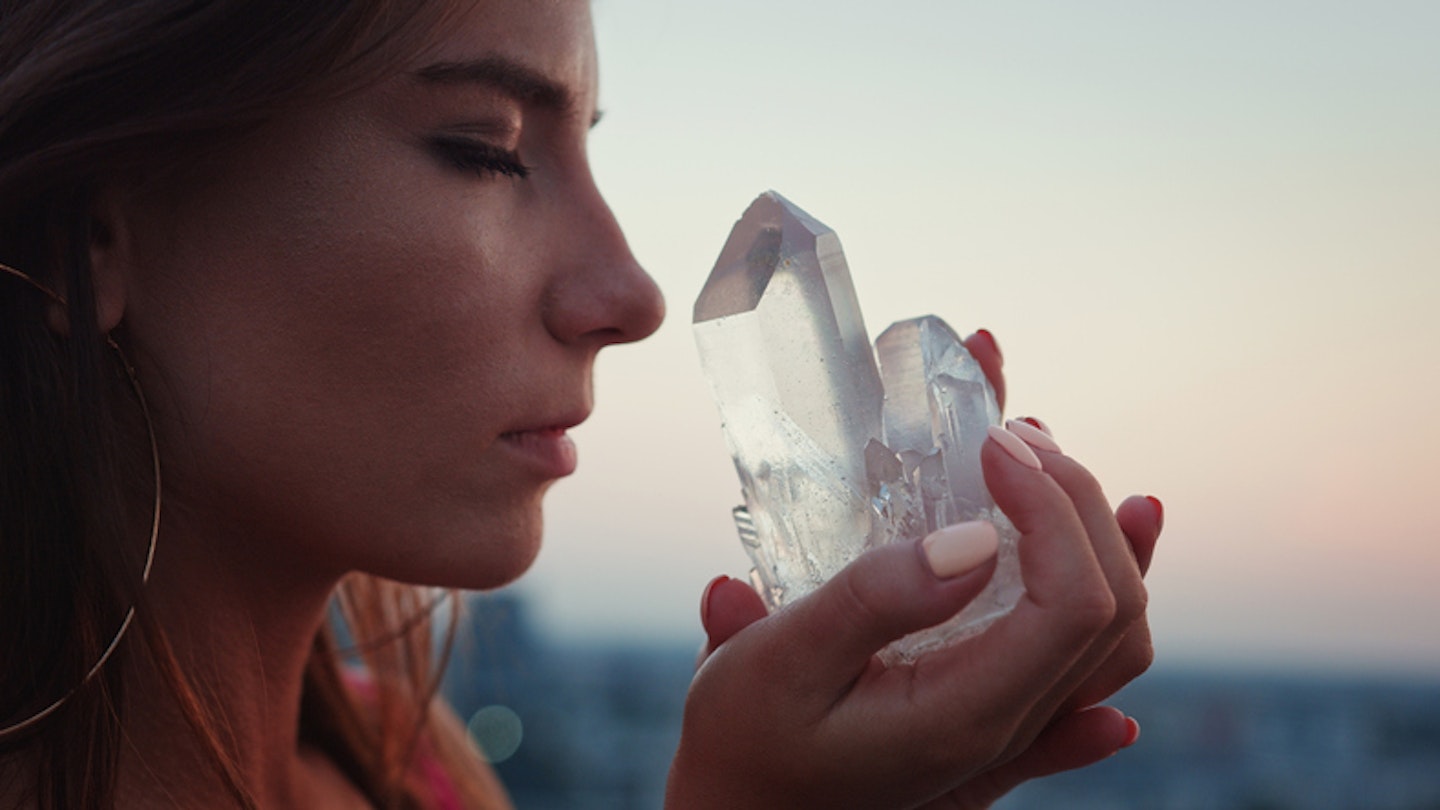 Tip four: Affirmations and vision boards
'Once you feel free of any turmoil you have been carrying, it's time to start giving yourself love through self-care, being grateful for all you have, saying positive affirmations, and focusing on your positive intent by writing down what you dream of. Making a manifestation vision board and believing in what you can have and achieve is another powerful way to send your messages to the universe. The universe will deliver when you are ready to receive. '
'If you've been in pain from hurt and upset, you have been carrying for many years you may need to repeat the burning process several times to enable you to let go completely. It's like peeling the layers off an onion. Sometimes you need to keep doing this until you get to the core. '
You can do the burning ceremony at home. In Nicci's book Manifest Your Everything, she gives you all the details to do the ceremony yourself at home. It's important to do this outside or in a well-ventilated kitchen in the kitchen sink.
Nicci's guide to practising manifestation?
So now you understand the groundwork of this practice, how can we action these points? Here are Nicci's suggestions:
Making your own manifestation vision board is one of the most powerful and impactful positive things you can do. By sticking words and images on a large board that represents the things you want to achieve, you can visualize what you want and focus on it every day. Your unconscious mind will then concentrate on positive outcomes.
Cut out pictures of your dream home, your perfect vacation, pet, or car! You may want to include pictures that represent finding love such as hearts and happy couples together. Or perhaps you have family and friends or work colleagues you want to include in your future vision.
You can stick anything you want on your manifestation board. Words are just as powerful as pictures to illustrate what you are hoping for. So, also include notes such as "Having fun with my family on a holiday," "Opening up my life to be more spiritual," "Finding peace, calm, and happiness," "Having good health," "Being financially secure," and "Finding my dream job."
Use Positive Affirmations. What you tell yourself can have a profound effect on how you feel. Perhaps you are afraid to say goodbye to a past relationship. Or are you still upset and angry with a loved one, friend, or family member and not able to forgive them?
The more you let go of negative thoughts and forgive, the more you will be able to give yourself what you need to build confidence and feel happier.  To encourage positive self-talk, tell yourself positive affirmations, or to put it simply, empowering words that remind you regularly to change negative thoughts to positive ones.
Examples include I believe in myself, I trust myself, I value myself and my feelings, I feel confident from within, and I trust my intuition. Listening to your intuition can enable you to see, hear, and feel things more clearly. Once you are in touch with your emotions and feel contented within, you can begin to build more trusting relationships with the right people and your confidence and belief in yourself will thrive.
 Anchoring is a way of connecting a positive memory where you felt particularly happy, relaxed or positive with a physical action. This enables you to bring the energy of the memory into the present moment to help you feel good. Think of a time you felt happy and confident, visualize your surroundings and people you were with.
Then, squeeze your thumb and forefinger together on one hand. Feel these good, confident feelings. Make them bigger, brighter, and bolder. See yourself feeling confident and empowered and imagine stepping into the moment. Turn up the volume! Double this feeling, then triple it! Make it even bigger and brighter as you begin to smile and feel so much happier and good about yourself. Stay in this happy, confident place for about 30 seconds and keep repeating whenever you need to.
 Meditation to soothe your soul. Meditation takes you to a place of peace, calm and clarity. It can also help us to re-energise and so much more. There are many ways to meditate, including visualisation, listening to music or guided meditations.
The "word meditation" is something I developed after training with Deepak Chopra in the US many years ago. Focus on positive words such as 'I feel calm, I feel peaceful, I'm in control'. Repeat these words over and over again until they seem to fade as you go deeper into a beautiful meditation. Allow anything else that comes into your mind to flow out, and keep coming back to these words.
Put a timer on your phone or clock for 2 minutes and gradually build up to 5 minutes, 10 minutes and then 20 minutes. These positive words you keep repeating go deep into your subconscious mind and will help you to feel calmer and more in control of your emotions following your meditation.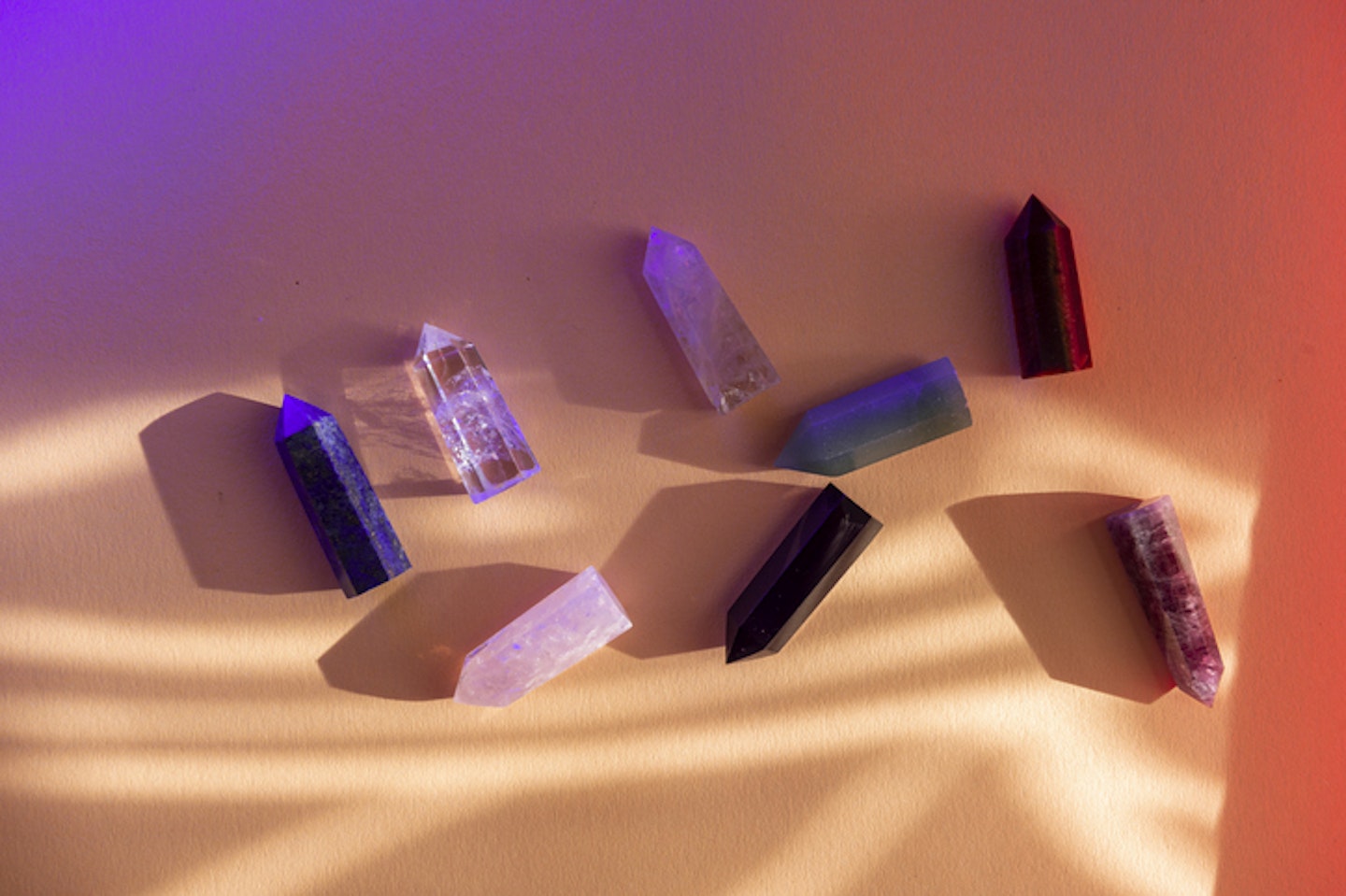 Reframe negative thoughts and choose positive ones. Studies show that optimists live longer than pessimists. In fact, one study in the Washington Post in July 2022 suggested that people with a positive outlook live 11-15% longer to those who are the least positive. When you have been focusing on the negative it's time to re- train your brain to start thinking positively and change the outcomes of your behaviour toward both yourself and how you come across to others.
If you tell yourself, "I'm never going to change" or "I'm stuck, and no one can help me," then you'll stay in this negative pattern.  By constantly focusing on the negative, you will also keep getting more negative things thrown at you. Reframing these thoughts can start to give you a new outlook on how you deal with your life and challenging situations.
You'll begin to notice how by focusing on the positive, there will be exciting new outcomes instead of staying in the negative state that won't give you what you need. Your new positive thoughts will enhance your life and give you a new perspective instead of thinking you're not worthy and are not good at anything you do. Reframing involves looking at your negative beliefs in a different way, from a positive perspective, and changing the words around to give a positive focus to what you are telling yourself.
The more you practice reframing your thoughts, the more you can change your mindset to a positive one and start feeling happier and relieved from not constantly focusing on what hasn't helped you mentally or physically. Having a positive outlook will help to add time to your lifespan. Just by telling yourself, "I'm looking forward to today," "I feel strong and in control" or "I feel calm, relaxed and happy" you are re-training your brain to focus on positive outcomes and making the changes you want.
Crystals for manifesting FAQs
Ways to use crystals for manifesting
Setting an intention: When you do this, you are giving your crystal a purpose. To do this, write out your intention or say it out loud. Hold it in your hand when doing this.
Place them in your home or wear them: Wearing crystals as jewellery is a great way to keep them on you all day. It could be as a ring, necklace or crystal bracelet. You can also carry small crystals in a crystal pouch or put them in your pockets. If you don't want to wear your crystals, you can place them around your home in places that make sense for you. For example, if you are working on advancing your career, place crystals such as citrine, pyrite and green aventurine in your workspace. If you are manifesting health, place them under your pillow while you sleep.
Meditation: A fabulous way to manifest with crystals is by holding them while meditating. It will amplify your manifesting abilities and help you gain divine guidance.
So with that in mind, let's get into the best crystals for manifesting money, love, health and your hopes and dreams.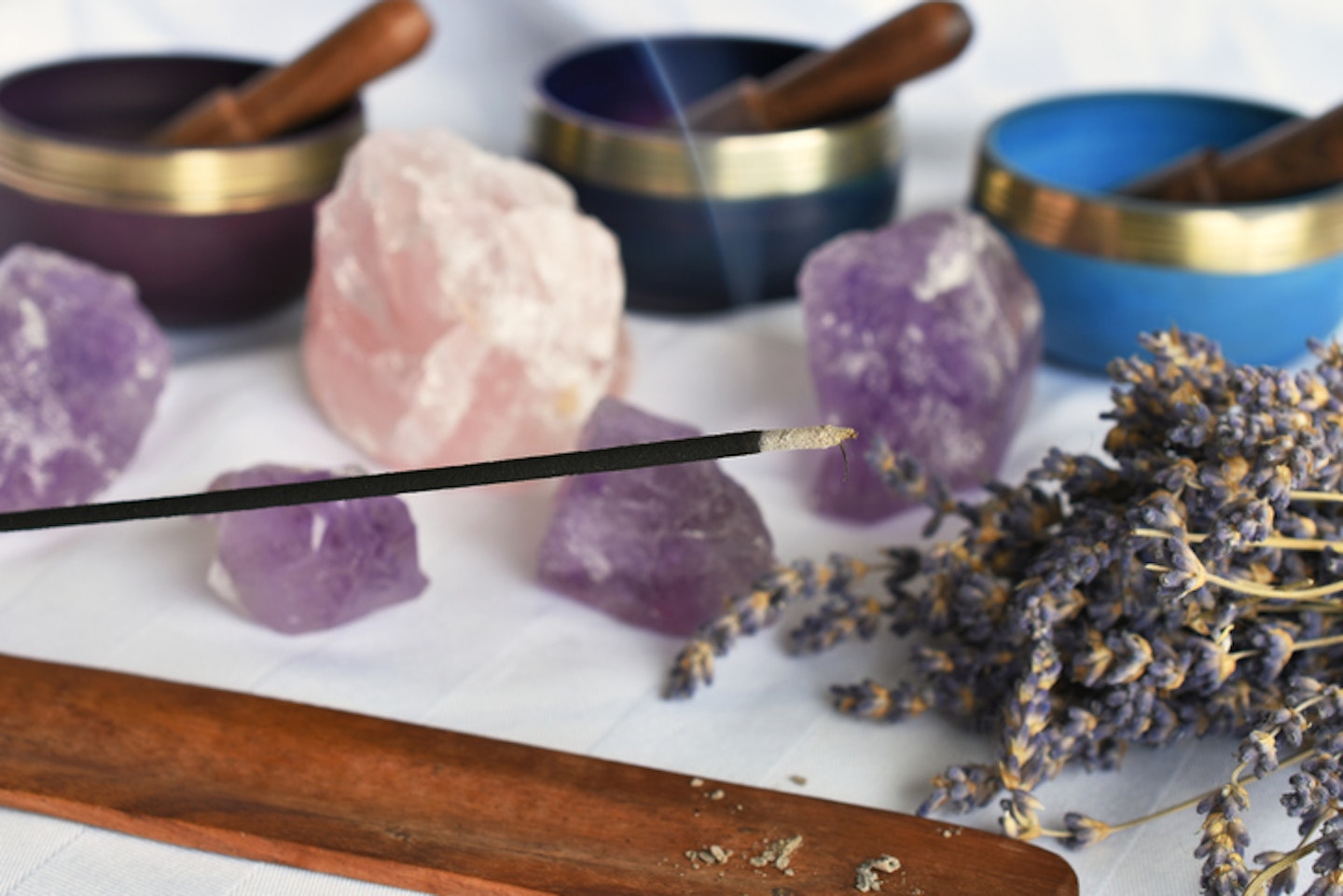 How often do you need to cleanse your crystals?
The more often you use a stone, the more energy it absorbs. A good rule is to cleanse all your stones at least once a month. If an individual stone feels heavier than usual, it would be an excellent time to cleanse it.
How do you cleanse your crystals?
There are many ways to cleanse your crystals. For example, you can place them under the light of the full Moon, give them a sound bath or burn a sage stick and waft them through the smoke.
What is crystal healing?
Crystal healing is a type of therapy that involves restoring balance and equilibrium to various areas of your life. To clarify, this can involve a treatment session with a crystal healer or a practice you engage in yourself.
Throughout a healing session, crystals are placed on the body to align with chakra points. Furthermore, the healer may choose specific stones to help alleviate symptoms in the body.
You can also carry crystals on your person, wear them as jewellery, or place them under your pillow or on your nightstand to protect your energy. As different stones have their own properties, the crystals that you choose may reflect areas of your life you're looking to focus on.
How do crystals work when manifesting
Nicci tells us that the powerful energy of crystals can also help with manifestation, amplifying the energy and intentions of the person using them. She says that choosing the right crystal to manifest with will bring about a positive change, helping you to focus on your thoughts and clarify your intentions for the best results.
'Every crystal that is connected to what you want will manifest your wish with its amazing flow of unique, positive, and vibrant energy. There are suggestions for crystals to use for different areas.
For example: Rose Quartz for love and romance, Crazy Lace Agate for confidence, Carnelian for happiness, Herkimer Diamond for new beginnings, and Tiger's Eye for courage. '
'Each type of crystal can help you focus on different aspects of your life, so it's important to find the right crystal to work with', states Nicci. 'The powerful energy of crystals will help you to manifest what you are wishing for. Three of my favourite crystals to work with are':
Manifestation quartz: This is any quartz crystal that has another quartz crystal growing either straight up the middle inside or any other crystal, such as fluorite or pyrite, completely enclosed within it.  Here is our suggestion from Etsy, a rare manifestation quartz from Brazil.
Brandberg amethyst: This crystal is wonderful for helping you manifest inner peace, creativity, abundance, and love and romance. It can only be found at the Brandberg, which is Namibia's highest mountain and is a combination of smoky quartz, amethyst, and clear quartz.  You can find his gorgeous Brandberg amethyston Etsy too.
You can find Nicci Roscoe's new book, 'Manifest your Everything' on Amazon and most bookstores.
Ellen Kinsey is a Senior Health & Wellness Product Rriter for Spirit & Destiny, specialising in natural health and beauty and self-development. She lives and breathes all things spirituality, travel, holistic health and wellness.
Subscribe to the Spirit & Destiny Newsletter to keep up to date with our latest recommendations and wellness trends from the Spirit & Destiny team.