If your life is becoming too much, finding the best desktop zen garden may help you feel free from your worries. It'll give you a chance to unwind. In our quest to help you discover the best spiritual décor pieces for your home, we couldn't pass down the opportunity to talk about Zen gardens. In this guide, Spirit & Destiny will take you through everything you need to know about these magical desktop gardens. They will bring the outdoors indoors and some tranquillity, too.
Perhaps, you're thinking: what is a zen garden? Zen gardens, also known as Japanese rock gardens, are carefully controlled outdoor spaces. Often, they will consist of raked sand and rocks, sometimes statues and neatly clipped shrubs. In Japan, these gardens appeal to the masses as they're great ways to reduce stress, improve focus and develop a sense of well-being. Similarly, a desktop zen garden can off the same feelings of peace but in a miniaturised and compact space.
Best Desktop Zen Garden Shortlist
• Best desktop zen garden: Japanese Zen Garden with Rake and Moss
• Budget desktop zen garden: Buddha Zen Garden with Tealight Holder
• Best desktop Zen garden for crystal lovers: Zen Garden Set with Meditation Crystals
• Best desktop zen garden kit: Island Falls Home Zen Garden Kit
• Best desktop Zen garden for healing: Buddha Zen Desktop Garden With Gong
Even in this miniaturised state, the zen garden benefits pretty much stay the same. Like a bonsai tree, they bring mindfulness and calm to your daily routine, whether at home or work. If you haven't got space for a zen garden, these are a cost-effective alternative. Not only do they add beauty to your home and foster creativity, but they can also boost your mindfulness and meditation. Plus, the raking tool can offer a small relief from work at your desk.
Introduced in Japan, the concept of zen gardens was a place where Buddhist monks could retreat into nature to focus on meditation. Plenty of these desktop gardens feature bridges, rocks and sand to encourage returning to the bare essentials of nature. They're still a big part of Japanese culture today. In desktop form, zen gardens can sit neatly in your spiritual nook with a moon lamp. So, we've found the best desktop zen gardens to inspire you at home.
Best Desktop Zen Garden
Best desktop zen garden
Description
Clear your mind with this beautifully simple but stylish zen garden. It has potted preserved moss,
Pros
Stylish and simple
Complete with a rake
Cons
None that we can think of!
Budget desktop zen garden
Description
Take some time out of yourself with this relaxing tealight holder. With this zen garden, you can
Pros
Great value zen garden

Plenty of miniatures
Best zen garden for meditation
Description
Bring a Japanese Zen garden indoors with this stress-reducing accessory. It makes a fabulous
Pros
Rake and other tools to get creative

Enlighted with miniatures
Cons
Unsure if the pebbles are included
Stacking stone zen garden
Description
This mini zen garden from NaturalTouch features eco-friendly and natural materials such as bamboo,
Pros
Choose different sizes
Perfectly simple and Zen
Cons
Stacking stones are an add-on
Best desktop Zen garden for crystal lovers
Description
This Miniature Zen Garden will bring peace, calm and a touch of sparkle to your home, room, or
Pros
Perfect for amplifying energy
Great for creativity and flow
Best Zen garden with a bridge
Description
Take a stroll for your soul with the Philosopher's Path Zen Garden from Etsy. It contains all the
Pros
Good selection of miniatures
Create a replica of Japanese scenery
Cons
Some customers have complained about the packaging
Best desktop zen garden kit
Description
Next, we have this wonderful gift. It features plenty of miniatures for endless arranging. This
Pros
Plenty of miniatures
Good design, great size
Cons
Plastic pieces, as opposed to ceramic
Recommended
Description
This Mini Zen Garden Kit with Buddha Statue and Stones combines Yin-Yang Tai Chi shape and crystal
Pros
Enhances your practice
Stable, relaxing, contemplation
Best desktop Zen garden for healing
Description
With this Buddha Zen Desktop Garden With Gong, you have healing on your side. A gong meditation is
Pros
The gong is for healing
Available in various styles
FAQs
Do zen gardens work?
Yes – they're said to be a great activity during times of stress and doubt. By raking patterns in the sand and rearranging the miniatures, the recreated essence of nature is healing and nourishing.
How to use a zen garden
For centuries, monks in Japan have perfected the art of raking the sand to achieve a meditative state. Now, with a miniature zen garden of your own, you'll need to learn the basics. After all, raking the sand into beautiful patterns will foster your creativity and give space for experimentation.
Choose a pattern that accommodates your mini zen garden's best features. Whether this is a stack of large stones, a Buddha miniature or moss, it's important to have a pattern in mind before you start raking. There are many different patterns to learn about. You can play with long, wavy lines in the sand to imitate a stream or simple straight lines that will lead the eye across the desktop garden.
For example, the water drop wave pattern is one of the most common methods. Known as maru-uzu-mon in Japanese, it features straight lines across the space, as well as broken-up circles around miniatures. This way, the circles create the illusion of ripples in water.
How to make a desktop zen garden
Thanks to ProFlowers, we have some simple and easy steps to make your own miniature desktop zen garden. With their advice and suggestions, you can see how to make this project your own. They suggest placing your new zen garden in "any space in your home or office where you feel everyone can use it the most".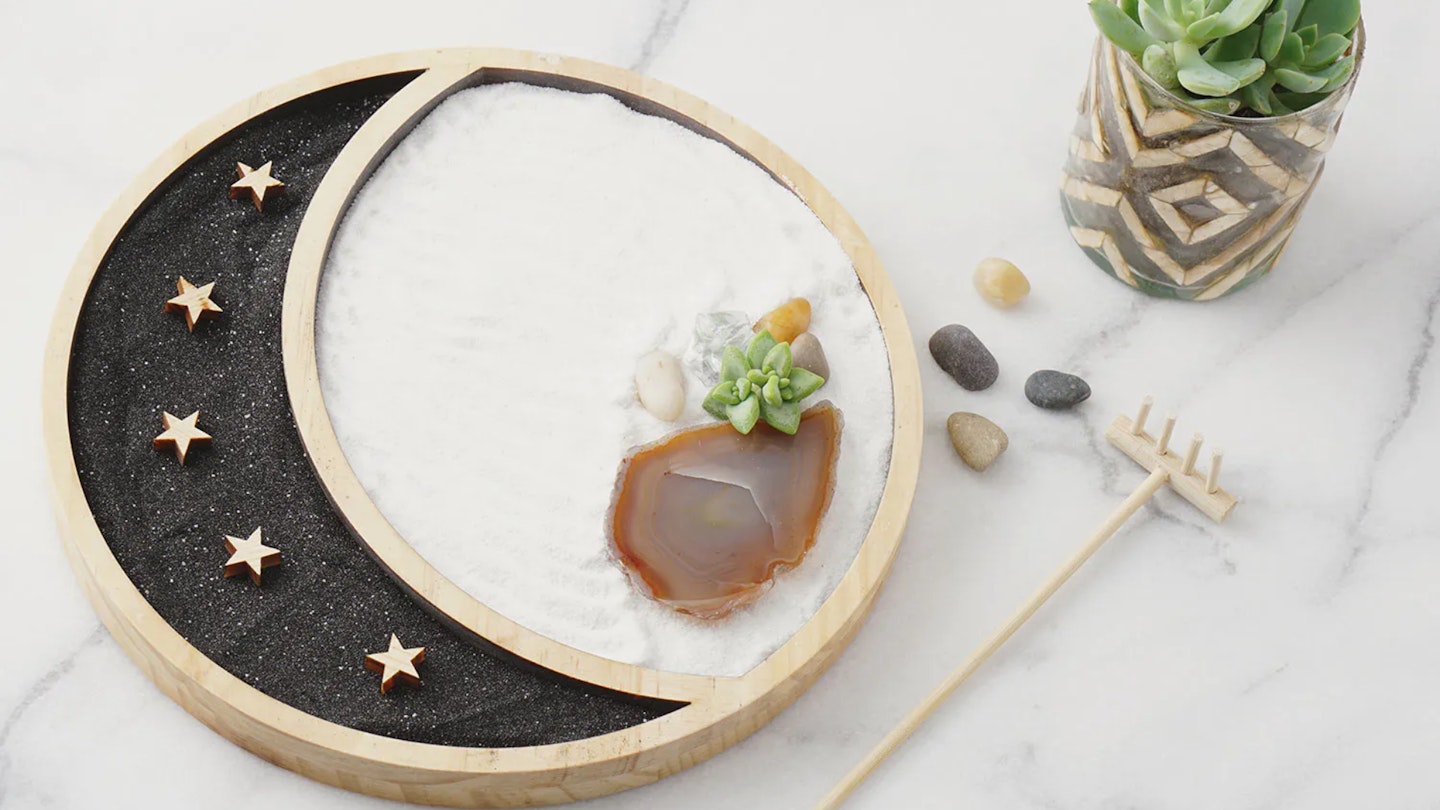 What You'll Need: Rake, Tray, Sand, Plants, Miniatures, Rocks and Crystals, Essential Oils
Step By Step
Fill your container with sand and essential oils.
Place stones and trinkets in your garden.
Add plants for a touch of green.
Create your sand pattern with a mini rake.
Quirky Zen Garden
If you love whimsicality, place fun trinkets and miniatures to add a subtle pop. With this, ProFlowers recommends scattering polished stones around the garden "to match the light colour scheme." You could even experiment with coloured sand to see what works best for you.
Modern Zen Garden
For this, ProFlowers suggest breaking away from a rectangular box and trying something a little more geometric. Selecting the best crystals will "support your desired area of wellbeing." Not only that, but plants are essential – so, position in "empty corners for added splashes of green."
Total Zen
Or, if you'd prefer to go for something more traditional, you could light a candle to "create a calming ambience while you reflect or meditate." Adding a few natural stones from meaningful places can create a stronger personal connection to your desktop Zen garden. Don't forget a rake for patterns.