The best chakra candles may be able to help restore a sense of balance in your life. By aligning with your chakras, they might offer a sense of focus on the energy points across your body. Whether it's meditation, yoga or healing sessions, these chakra candles will make your space a calm and relaxing one.
Additionally, if you're looking to shift your attention to each of the chakras, a chakra candle is a great way to do so. Burning one of these candles may help you to set your intention so that you're well on your way to unblocking, balancing and aligning your chakras.
Best chakra candles at a glance
• Best chakra pillar candle: GeoFossils Chakra Rainbow Candle - View Offer at Amazon UK
• Best third eye candle: Third Eye Chakra Aromatherapy Candle - View Offer Etsy
• Budget alter candles: Chakra Altar Candles - View Offer at Etsy
Here at Spirit & Destiny, we take a look at the meaning and significance of the chakras, as well as the best chakra candles for assisting you on your spiritual journey.
Best chakra candles
Description
This beautiful pillar chakra candle from
Description
Designed with the Crown chakra in mind, this handmade candle encourages enlightenment and
Description
Crafted with the Third Eye chakra in mind, this handmade candle encourages you to strengthen your
Description
Made with the Throat chakra in mind, this handmade candle encourages you to express yourself and
Description
Lovingly handmade with the Heart chakra in mind, this candle encourages compassion, kindness and
Description
Made with the Solar Plexus chakra in mind, this handmade candle encourages you to develop your
Description
Designed with the Sacral chakra in mind, this handmade candle encourages you to reignite your
Description
Made with the Root chakra in mind, this handmade candle encourages grounding, stability and
Description
For a selection of candles in all of the colours of the chakra, this assortment of tea lights from
Description
Made from soybean wax and using a blend of essential oils, each of these seven candles have its
Description
Handmade from unscented beeswax sourced within the UK, these chakra altar candles would be perfect
Description
Decide between a variety of chakra candle bundles, from tealights to votive candles to dinner
Our verdict: Best chakra candle
In our opinion, the GeoFossils Chakra Rainbow Candle from Amazon is our favourite from the chakra candles on this list. We love that all of the chakra colours run through the candle, with the chakra symbols decorating the outside of the glass.
What is a chakra?
Originating in India, the ancient history of the chakra is an interesting one. Most commonly part of Hindu or Buddhist practices, the word 'chakra' comes from the Sanskrit word for 'wheel,' and refers to points of energy across the body. Despite common misconception, there are actually hundreds of chakra points, not just seven.
However, influenced by New Age and Western teachings, the common understanding of the chakra has taken on different meanings in modern culture. Often, there are thought to be seven main points of energy that make up the chakra system, where each is assigned to an area of the body.
What are the seven chakras?
In modern teachings, there are considered to be seven chakra points across the body, from the top of the head to the base of the spine. Here are the seven chakras, what part of the body and what they supposedly represent.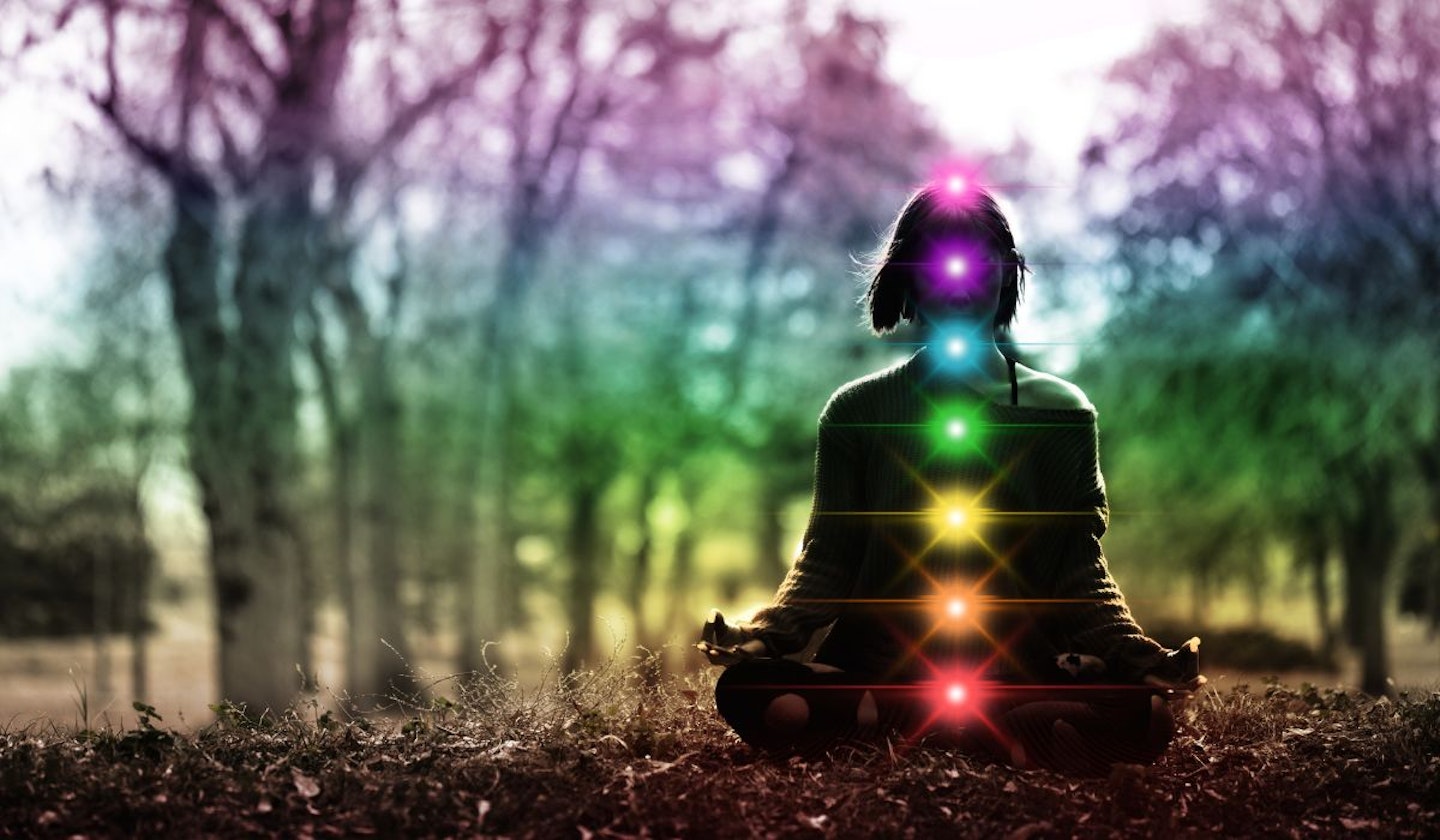 Sahasrara or Crown Chakra: At the top of the head, represents the connection to enlightenment and spirituality.
Ajna or Third Eye Chakra: In the middle of the forehead, represents intuition, perception and consciousness.
Vishuddha or Throat Chakra: In the throat, represents communication, self-expression and speaking your truth.
Anahata or Heart Chakra: In the centre of the chest, represents compassion, love and beauty.
Manipura or Solar Plexus Chakra: Under the breastbone, represents self-esteem, confidence and courage.
Svadhishthana or Sacral Chakra: Around the navel, represents pleasure, creativity and sensuality.
Muladhara or Root Chakra: The base of the spine, represents grounding, stability and security.
FAQs
What are chakra candles used for?
You can use chakra candles as part of guided meditation classes, yoga classes and reiki healing sessions. Or, you can use them at home when you're meditating or doing yoga alone. Alternatively, you may just want to burn them in the background to encourage healing in that specific area.
What does a chakra candle do?
Chakra candles bring balance and alignment to areas of your life. They provide focus and attention on a specific chakra, and may even help to 'open' any blocked chakras. Not to mention, candles and aromatherapy in general can create relaxing environments to help with achieving a sense of calm.