On your spiritual journey, you may have come across a singing bowl. Or, perhaps, once on a retreat, your soul was soothed by the velvety tones from a sound therapy instrument. Did it quieten your mind? With historic roots in the Himalayan region, these healing instruments are thought to have been used for rituals and ceremonies. Today, they are used in a sound-based practice or in yoga classes.
Himalayan singing bowls are said to promote relaxation, as well as guide you through practices deeper – with the potential of healing, too. So, if you've been feeling run down lately, with stress getting the better of you, consider sound healing to enhance your current spiritual practice. Long used by Buddhist monks, they have been adopted by modern wellness practitioners. Investing in your own crystal singing bowl could help with your relaxation in the domestic sphere.
Black Friday deals on singing bowls 2023
Black Friday has finished, but some sales remain… throughout the month of November, we're expecting to see a whole host of last-minute Black Friday deals. Want to grab a bargain? These are the retailers that have the best deals right now or keep scrolling to continue reading our buyer's guide.
Shop the best singing bowl post-Black Friday deals: Gear4Music | Amazon | Etsy
Top Pick: Tibetan Singing Bowls Set for Healing, V/Sizes, PRICES START FROM £15.39
20% Off: Meinl 730 - 780 g Universal Singing Bowl, WAS £106, NOW £85
Singing bowls, with their enigmatic origins, produce calming tones and vibrations when struck or stroked with a mallet. They come in various materials, with metal and crystal being common. In the case of crystal bowls, crushed crystal is moulded into the bowl's distinctive shape. If you prefer a different frequency or vibration, consider a hand pan, with beautiful and calming sounds that will promote harmony and reduce stress. Sound therapy works wonders – and really does heal.
Best singing bowls at a glance:
• Best signing bowl for beginners: Hand Beaten Singing Bowl - View Offer on Etsy UK
• Budget-friendly singing bowl: Tibetan Singing Bowl - View Offer on Amazon UK
• Best crystal singing bowl: Quartz Crystal Singing Bowl - View Offer on Etsy UK
• Best singing bowl for meditation: Meinl 700g Energy Singing Bowl - View Offer at Gear4Music
On the other hand, tuning forks are another healing pick, ideal for those of us craving an invigorating physical (and spiritual) healing experience. With soothing tones, sounds and vibrations, it's no surprise that singing bowls have stood the test of time. Below, we answer questions about these beautiful instruments, such as what they are, what they're used for and where they originate. We'll also be looking at where to buy these instruments and rounding up the best ones that we can find.
Best Singing Bowls UK 2023
Best Lingam singing bowl
Description
Delve into the world of sound healing with this Hand-Beaten Lingam Singing Bowl. This artisanal
Pros
Complete with a cushion and mallet
Crafted with precision and care
Lingham shape is unique and healing
Cons
Unique tones may not be for everyone
Best singing bowl set
Description
You can experience the resplendent richness of the Meinl Therapy Singing Bowl Set. Crafted through
Pros
Designed for meditation and sound therapy workers
Handcrafted in India with traditional methods for authenticity
Long sustain singing bowl with high and low tones
Cons
Not in stock, available to order
Best signing bowl for beginners
Description
Palm-sized for comfort, why not upgrade your meditation and relaxation with this Hand Beaten
Pros
Hammered into a perfect palm-sized bowl
Complete with a cushion and mallet
Ideal for spreading positive and peaceful energy
Best singing bowl for yoga
Description
Deepen your yoga practice with the Sela Harmony Singing Bowl. This elegant bowl offers a
Pros
Elegant engravings provide a unique aesthetic
The felt ring allows for optimum vibration
Projects broad and harmonious tones
Budget-friendly singing bowl
Description
Transform your meditation and mindfulness practice with the Tibetan Singing Bowl. Crafted for
Pros
Hand-hammered old antique design
With silk cushion and a wooden leather mallet
Simple, effective and enjoyable bowl
Cons
Smaller than some expected
Best Naga singing bowl
Description
This singing bowl has a 6.5-inch diameter and creates profound relaxation with its beautiful tones
Pros
Immersive vibrations cleanse negative energy
Comes complete with a mallet, striker and cushion
Deep relaxation with beautiful sound
Cons
No product-specific reviews
Japanese-inspired sonic singing bowls
Description
Our most unusual pick, the Meinl Sonic Energy Zen Singing Bowl Set, is perfect for sound
Pros
Based on Japanese singing bowls
Ideal for meditation
Durable cast alloy construction
Best five-piece singing bowl set
Description
Venture on a transcendent journey with the Meinl 5-Piece Universal Singing Bowl Set. These bowls
Pros
Great value handcrafted set for sound healing classes
Produces pure harmonic resonance for peace and relaxation
Includes mallets, covers and felt rings for ease
Best crystal singing bowl
Description
For those of you interested in experiencing the harmonious tones of a crystal bowl, consider the
Pros
All musical notes available for Chakra
Mallet can be personalised with text

Can choose added carry bag option
Cons
Delivery may take a while
Best Ultabati singing bowl
Description
This Tibetan Ultabati Singing Bowl boasts calming, sustained low tones crafted by 4 or 5 skilled
Pros
Soothing effect with low tones and long sustainability
A real handmade bowl from the Himalayas
A leather striker is included with this singing bowl
Cons
May be too heavy fro some
Best giant singing bowl
Description
After a busy day, tap or strike the Meinl Giant Series Singing Bowl to unlock its spiritual
Pros
Larger singing bowls for deeper meditation
Fill any room with deep ambient tones
Sourced from high-grade metals for ambience
Cons
No customer reviews yet
Not in stock, available to order
Best singing bowl for meditation
Description
Ideal for meditation and sound massages, the Meinl 700g Energy Singing Bowl captivates with its
Pros
Produces long, entrancing tones for tranquillity
Handcrafted by artisans in India from bronze alloy
A pure, consistent tone, ideal for meditation
Verdict: Which is the best?
The Hand Beaten Singing Bowl from Etsy is not only our pick for beginners but our top pick overall.
Buyers Guide
Thanks to Shanti Bowl, we have a healing guide on how to choose a singing bowl. Though it is believed that there are around 50 types of healing bowls, we won't be taking you through as many – and guiding you through the most popular seven or eight styles. Things that can differ between types are country of origin (from Nepal, Tibet, India or Mongolia), style, size and sound range.
Old vs. New
Both old and new bowls have their pros and cons, says Shanti Bowl, as Ancient Tibetan bowls are widely accepted as antiques and "must be authenticated for their age and quality." Though many newer bowls made today may look aged, authentic antiques are distinguished by look and sound.
Older bowls will feature "thinner layers of metal on the bottom than newer bowls." However, do not let their condition put you off – as the signs of ageing are appreciated. After all, most of these bowls are going to be at least 100 years old. To be expected, older bowls sound richer and warmer than newer bowls. Newer bowls are louder, powerful, but "metallic and sharp," says Shanti Bowl.
Consider your budget, too, as ancient bowls are investments – and will be considerably more expensive than newer bowls. This way, newer bowls are accessible and ideal for beginners.
Quality
Quality is determined by the sound it makes, as well as its build from metal. Hearing a sound clip or being able to play it for yourself will help check. Shanti Bowl says: "A high-quality bowl will be able to hold its vibration and produce several tones, harmonics and overtones. If the vibration sounds as if it's "fluttering" away, the bowl is not high quality." The time it takes to sing is irrelevant.
Sound and Feeling
As mentioned above, sound is the most important thing to consider when purchasing a singing bowl. Choose a bowl with an excellent bowl: "one that moves you and makes you feel something," says Shanti Bowl. For this, observe how the sound affects your mind, soul and body. Are you moved?
Feeling the vibrations and tones – and them sitting well with you – is very important.
Consider the size of your bowl, too – and how it feels to play. Below, we list the different types of antique bowls you can grab online, all coming in different sizes and shapes. Ensure your new sound healing instrument sits comfortably in your hands – and that it's not too heavy.s
You should look for a singing bowl that is as close to your perfect fit as possible, says Shanti Bowl.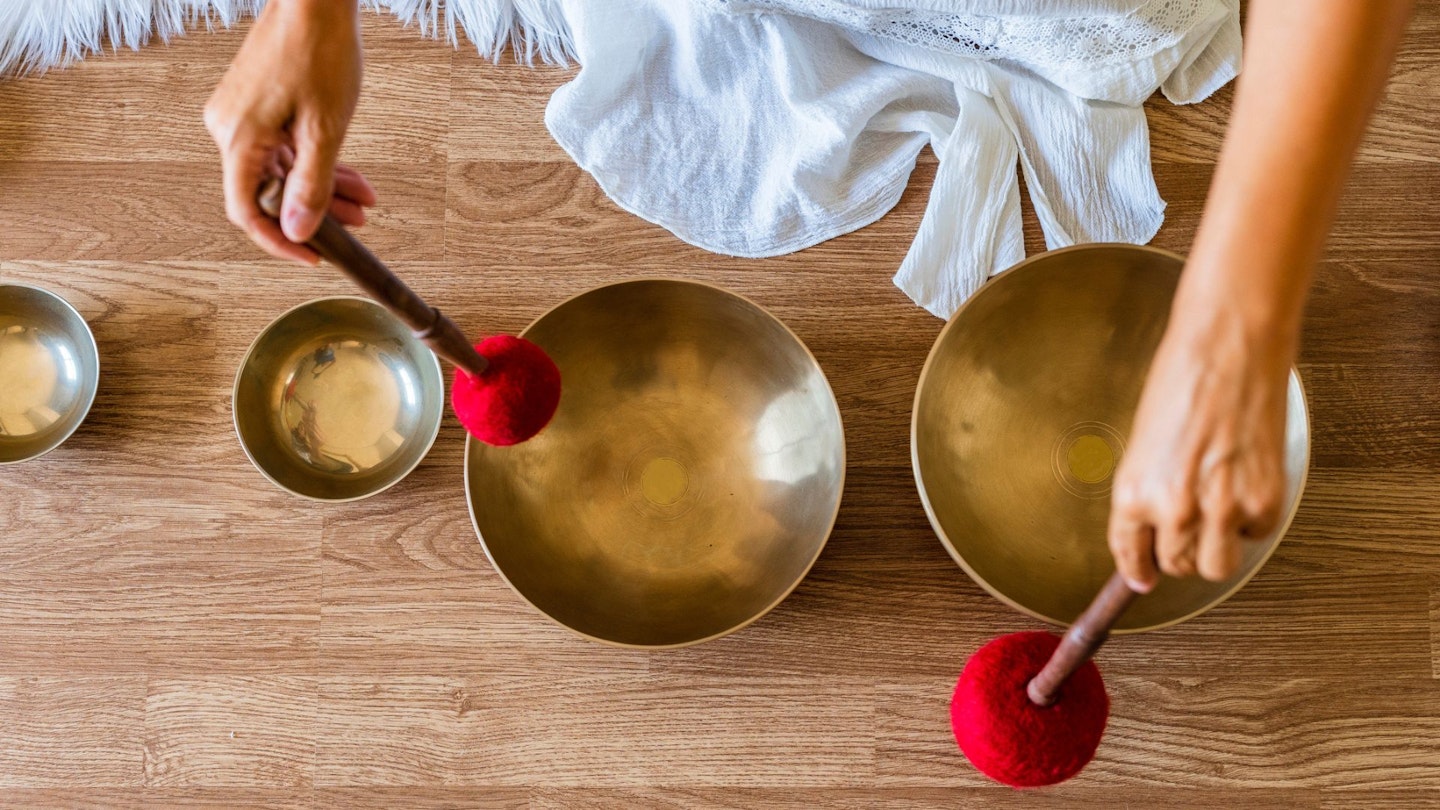 FAQs
How to make singing bowls sing
we have some tips and tricks to make your bowl sing – for beginners and advanced users. With a little practice, using a beautifully crafted sound healing tool will be nourishing for your soul.
Shanti Bowl says there are two ways to play:
Striking
This is arguably the easiest way to play a singing bowl, says Shanti Bowl, making it a "great introduction to playing the bowl and is suitable for all ages." So, how is it done?
Once you have your bowl and mallet to hand, hold the bowl "in the palm of your non-dominant hand, and the mallet in your dominant hand." Lightly strike your new bowl – with the padded side of the mallet. Make sure it hits to the bowl's "mid-exterior wall." Can you hear the rich tone?
Strike again once the "sound and vibrations fully dissipate."
Rimming
Patience is crucial, says Sahti Bowl, when mastering this technique. While this singing bowl technique may present initial challenges, consistent practice can lead to mastery. Invest some time into your new healing instrument...
Begin in a "relaxed seated position with a straight spine" and natural breath, says Shanti Bowl.
Same as striking, the bowl in your non-dominant hand and the mallet in your dominant hand. Grip the mallet "like a pen" with your thumb and forefinger, striking the bowl lightly on the exterior wall to warm it up.
Then, position the mallet vertically near the rim and immediately start circling clockwise to initiate the singing. Now - maintain this full-arm stirring motion for at least five rounds, says Shanti Bowl. Gradually apply more pressure as the clear female overtone emerges, sustaining the sweet and clear sound.
Advanced Techniques
Perhaps, you have questions such as: can you put water in a singing bowl? Yes - you can. Adding a "small amount of water to the bowl produces a very special sound reminiscent of dolphins singing," says Shanti Bowl. You can read about the technique further in their how to play a singing bowl guide.
What are the benefits of singing bowls?
Stress Reduction
Meditation Aids
Chakra Balancing
Improved Sleep
Pain Relief
Enhanced Emotional Well**-**being
Sound Healing
Mind-Body Connection
Cultural and Spiritual Significance
Where did singing bowls originate?
Singing bowls originated in the Himalayan region, with their roots deeply intertwined with the spiritual and cultural traditions of Tibet, Nepal, India, and Bhutan. These ancient and resonant instruments have played a significant role in the spiritual practices and rituals of these Himalayan cultures for centuries, offering a profound connection to meditation, healing, and inner harmony.
Do singing bowls hurt cat or dog ears?
Rumble says: "Singing bowls won't hurt the dogs' ears." After all, our furry friends have super hearing and "singing bowls do not have any negative effect. They may have just the opposite."
Piper Huxley is a Homes, Garden and Wellness Product Writer for Spirit & Destiny, an all-rounder: from health to spirituality. When not at her desk, she's practising yoga or in deep reflection.
Subscribe to the Spirit & Destiny Newsletter to keep up to date with our latest recommendations and wellness trends from the Spirit & Destiny team.