What is a pendulum, you may ask - well, pendulums are a beautiful, powerful tool that can help with energy healing, meditation, divination and dowsing. We all possess the inherent power of intuition, but pendulums are valuable tools that help us tap into that to find the answers we already have within us. In this guide, we will teach you the basics: from what is divination to the art of using this spiritual tool and provide the answers.
Perhaps, you're wondering: what are pendulums, and how do they work? Pendulums are objects used for spiritual practices, just like divination cards. These tools help us connect to our intuition, ask questions, and heal. They can consist of various materials, including crystals, wood, glass, and metals. In terms of healing, crystal pendulums, such as an amethyst pendulum, can be used for unblocking chakras and blocking chakra energies.
Best pendulums at a glance
• Best wood pendulum: Wooden Dowsing Pendulum - View Offer on Etsy
• Best crystal pendulum: Crystal Pendulums - View Offer on Etsy
• Best metal pendulum: Egyptian Goddess Isis 4-step Brass Pendulum - View Offer on Etsy
As the pendulum acts as an amplifier for the energy to flow fluidly throughout the body, it provides good information in determining your chakra for your decision-making process. The pendulum also acts as a divination tool to help find blockages in the energetic body. Whereas, ritual spoons, for example, work as an aid to your spells and rituals.
So how does it work? A pendulum necklace uses your inner energy combined with direction from your spirit guides to answer yes or no questions. It is designed to help you gain clarity and better understand certain situations. You can then ask your pendulum straightforward or complex questions. Typical topics to ask a pendulum include life, love, health, career, and money.
The best pendulums to buy
So, now that you know the basics, let's deep dive into these magical apparatuses that will help your growth, divination and energetic healing.
Wood pendulums
Best wood pendulum
Description
In a similar fashion, these handcrafted wooden pendulums are made from ash, oak, alder, hazel,
Pros
Crafted with a crystal bead
Choose from several types of wood
Recommended wood pendulum
Description
All these sellers' Dowsing Pendulums are handmade Oakmoon & Silvermoon in Glastonbury, the Magical
Pros
Comes with a pretty amethyst
Multipurpose pendulum
Crystal pendulums
Best chakra healing crystal pendulum
Description
Our chakras are energy centres that flow from one to the next; blockages in one chakra can disrupt
Pros
Seven stones for the seven Chakra
Handcrafted and beautiful
Best crystal pendulum
Description
This high-quality crystal pendulum comes on a 15cm chain and in seven different crystals that fit
Pros
Beautiful crystal necklace
Choose from different types
Cons
Some crystal types are out of stocks
Metal pendulums
Budget-friendly metal pendulum
Description
Sterling silver and copper are the two highest energy conductive materials that exist. A pendulum
Pros
Comes with a useful guide
Perfect to be used in dowsing
Sterling silver metal pendulum
Description
When working with a pendulum, you're working with energy and light, and silver is the most
Pros
Exquisitely-crafted
Made from sterling silver
Best metal pendulum
Description
The Egyptian Goddess Isis 4-step Brass Pendulum has four 'batteries', has a witness chamber and
Pros
Generates a strong white aura
Versatile pendulum
Pendulum dousing accessories
Best pendulum board
Description
This pendulum board is laser carved on genuine Portuguese cork leather, which is 100 per cent
Pros
Handmade board
Great to take on the go
Best book about pendulums
Description
If you are a beginner in dowsing, A Beginner's Guide to Pendulum Dowsing will guide you in
FAQs
What types of pendulums are there?
Wooden pendulums: Wooden pendulums are simpler than crystal pendulums as they aren't affected by the energies surrounding them. They are only affected by the energy of the person holding the pendulum, making them ideal if you are searching for answers but need further healing.
Crystal pendulums: Excellent for healing purposes, crystal pendulums are more complex as each type of crystal has a different kind of energy. While crystal pendulums are best for healing, they can also reveal answers to you. Crystal pendulums can provide you with reliable guidance with proper care and cleansing.
Metal pendulums: Whatever your question, whatever your troubles, your subconscious mind knows the answers best, and a metal pendulum knows how to tell you the answers. Sterling silver and copper are the two highest energy conductive materials that exist. A pendulum made of metal is predictable and sensitive to subtle energy vibrations.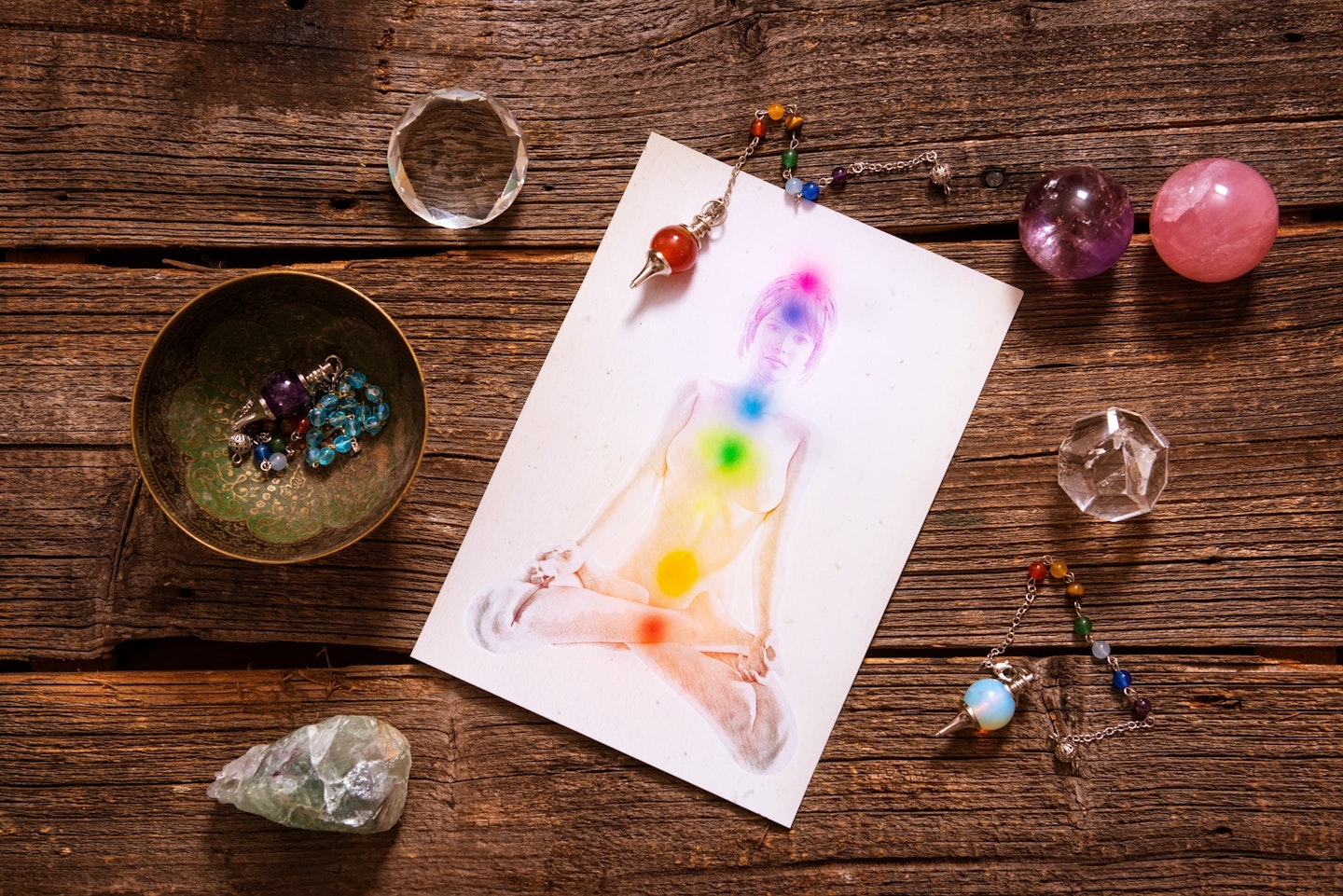 How to use a pendulum: a step-by-step guide
If you're a beginner to divination, you may be wondering how a pendulum works. We've put together this guide so that you can gain an understanding of the pendulum. This process will also allow you to strengthen your intuition and connection to yourself. Here are some essential reminders when it comes to using a pendulum.
For energy healing practices, a pendulum with Chakra stones or crystals would be suitable, as each material provides unique properties that can intensify the work you do with your pendulum. Are you looking to find one for dowsing purposes? A wooden pendulum would work best.
Step one) Cleanse:
Just like crystals, it is essential to take proper care of your pendulums by cleansing them. Before you ask your pendulum anything, you will want to purify them, especially if it is a crystal that has absorbed any bad energy on its way to you. Crystals pick up on energies from different sources - you will want to ensure that you start with a clear channel so that the results are accurate. Make sure that you're in a state of relaxation and have a clear mind as this strengthens the connection.
You can use sage to clear the energies, leave it outside under a full moon, let it rest in sea salt (if the material or crystal is water and salt resistant) or even hold it under cold tap water.
Step two) Prepare your questions:
If you are using your pendulum to ask a question or are looking for clarity or guidance, make sure you formulate clear and concise questions. It is always good to have a few questions prepared around the subject to help you gain as much insight as possible. It is good to note that the pendulum might not always work – this can be shown as a separate directional swing, or the pendulum might remain still.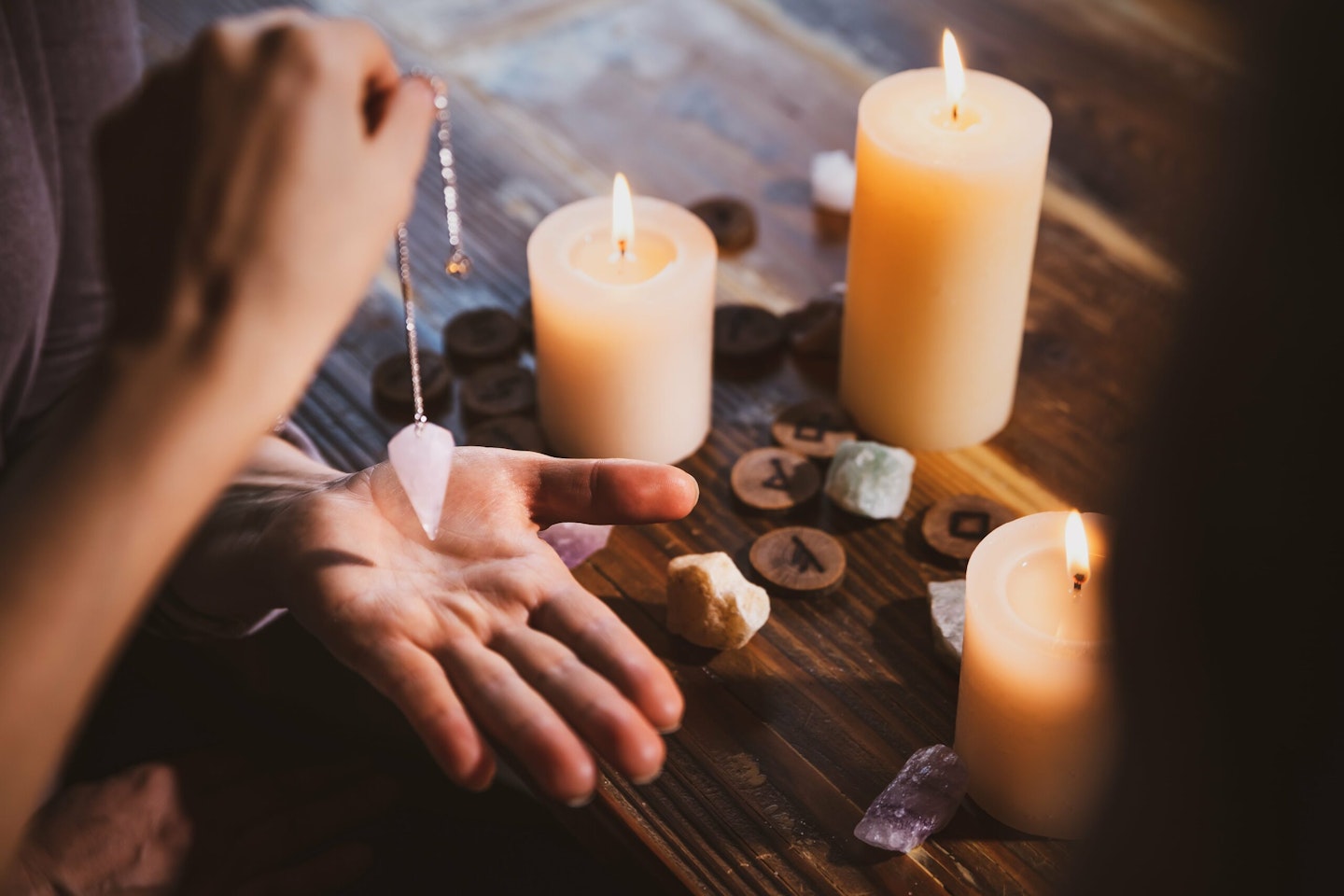 Step three) Learn how the pendulum moves:
It is good to know what directions the pendulums swing when working with pendulums. They swing in vertical straight lines, horizontal straight lines, and circular movements. It can be done side-by-side, front and back, clockwise and counterclockwise. A pendulum board makes the swinging direction of the pendulum clearer.
Once you know this, you can use the pendulum. Find somewhere comfortable to sit and clear your mind. Ground yourself by taking a few deep breaths, and then hold the pendulum in your dominant hand with the chain or top link between your thumb and index finger.
Now you can define the directional swings and assign each direction to a response. For example, ask your pendulum – what does 'yes' mean and then what does 'no' mean? Asking these questions to your pendulum will help define the swings.
Step four) Using the pendulum:
Once you have learnt what is 'yes' and what is 'no', you should start by asking the pendulum questions you already know the answer to. For example, ask 'Is this my name' or 'Do I live in (your city)'. It will help you connect with the pendulum and get to know its directional swings and how it will communicate with you.
Step five) Remain open:
Using a pendulum is about being at ease and in a flow state. When you are meditating, allow the pendulum to communicate freely with you. The more open you are to receive, the easier you and the pendulum can communicate.
Step six) Remember it's a tool:
The best way to use a pendulum is to remember that it is a tool and your ability to connect is already in you - you already have your answers. A pendulum is a tool that will help you connect to your intuition.
If you're unsure what turn to take in life and are looking for guidance, a pendulum will aid you with decision-making and achieving your life goals by helping you tap into your spirituality. Here is a video on how you can get accurate answers when using a pendulum.
Ellen Kinsey is a Senior Health & Wellness Product Writer for Spirit & Destiny, specialising in natural health and beauty and self-development. She lives and breathes all things spirituality, travel, holistic health and wellness.