Feeling overwhelmed is understandable. Today – life is hectic. Everything is so fast and stressful. Sometimes, it can get a little too much. It's perfectly normal to feel unsettled. Luckily, there are plenty of ways you can help naturally treat anxiety and improve your well-being. Whether you're equipped to go for a walk to clear your head or think aromatherapy would de-stress, Spirit & Destiny has done extensive research into the best anxiety remedies. Make sure to prioritise yourself sometimes. Just, breathe.
Remember: anxiety is not the same thing as stress. Often conflated with one another due to their similar symptoms, stress comes and goes and is based on an external factor. This factor could be a stressful project at work or money issues. On the other hand, anxiety takes root and can linger. For us, it's best to pinpoint why you're feeling worried.
Best Anxiety Remedies Shortlist
Best supplements for stress and anxiety: Together Health, Stress Aid Complex - 30 Capsules
Best drops for anxiety: Nelsons, Rescue Remedy - 10ml
Top de-stress pick: Tisserand Aromatherapy, The Little Box of De-Stress
Best gift for anxiety sufferers: LUXE Diffuser Bracelet 18k Gold
What is the best help for anxiety?
Anxiety is very common – and can make us worry a great deal.
This can cause tension, an increased heart rate, and chest pain, negatively impacting our wellness. However, there are many natural remedies and methods. Why not consider a natural remedy before looking at herbal tea, supplements and other support? Though there are plenty of herb remedies, you may benefit from making a few lifestyle changes.
Best Anxiety Remedies
Supplements
First, there are supplements. Problem is, there are quite a few to choose from. For this, we recommend Rhodiola or ashwagandha supplements because they are both adaptogens and have a host of great benefits. Plus, ashwagandha has been known to alleviate the physical symptoms of anxiety, too. All of this and more are below...
Best supplements for stress and anxiety
Description
The Together Health Stress Aid is made with herbal extracts and is a food-based complex blending
Best supplement for anxiety
Description
This Ashwagandha supplement from Together Health is vegan-friendly, highly absorbable, gentle on
Description
There's a lot of hype around cannabidiol (CBD), a popular natural remedy derived from the cannabis
Best anxiety remedy for fatigue
Description
Recently, there has been a buzz online about the wonders of magnesium - and how it settles down
Best valerian root extract supplement
Description
Since the second century A.D., Valerian has been used to ease insomnia, anxiety, and nervous
Best remedy for anxiety and low mood
Description
St John's Wort is a traditional herbal medicinal product used to relieve the symptoms of slightly
Perfect for all-around health
Description
B-complex vitamins contain all eight B vitamins, which may help improve mood and reduce stress by
Description
Next, we have Rescue Remedy. This Passion Flower supplement has been around for a long time and
Description
These Vitamin D3 K2 supplements from Howard & James contain 4000iu of vitamin D and are one of the
Best mushroom extract for anxiety
Description
Arguably our favourite - and most unique - supplement on this list, we have DIRTEA. They're a
Essential Oils
For centuries, aromatherapy has been used to improve our well-being, whether to provoke sleep, remedy anxiety or alleviate pain. It's safe to say that essential oils do far more than smell enticing. Though smells are very powerful and can evoke some powerful emotions, aromatherapy has a scientific explanation behind it.
Scientifically speaking, when you inhale a fragrance, the scent molecules found in essential oils traverse from the olfactory nerves directly to the brain and especially affect the amygdala - the emotional centre of the brain.
Aromatherapy works through smell and can be found in all sorts of products, such as incense sticks and pillow sprays.
Incesne sticks for anxiety
Description
Satya is hand-rolled in India - each pack contains 15g of Incense sticks, which is approximately
Description
A lovely gift set for restoring balance, this little de-stress aromatherapy box contains three
Top essential oil for anxiety
Description
Just like chamomile tea, this essential oil is light and earthy and distilled from the chamomile
Best gift for anxiety sufferers
Description
Beautiful, this elegant bracelet is a stunning piece of jewellery. And, it has another purpose.
Best blend for anxiety and migraines
Description
No matter how you like to use essential oils, this blend is perfect to help comfort and support
Description
The soothing properties of Lavender Oil help calm the mind, improve relaxation and promote a good
Best candle for uplifting mood
Description
Inspired by one of Vincent van Gogh's favourite subjects, this is a scent to signify the first
Best bath oil for anxiety
Description
Containing a blend of calming Lavender, anti-inflammatory Myrrh and uplifting Sandalwood, this oil
FAQs
What calms anxiety naturally?
Time with Animals - It's been scientifically proven that petting an animal can reduce blood pressure. Give them a squeeze if you're lucky enough to have a pet at home. There's nothing quite like it.
Exercise – Exercise has been proven to get happy hormones (endorphins) throughout your body. If things get too much, do a gentle workout. Getting down on your yoga mat may help your head.
Aromatherapy – There are several natural aromatherapy oils you can incorporate into your daily life. Read more on the best essential oils for anxiety and stress below. Hopefully, you'll find your calm.
Sleep – As discussed before at Spirit & Destiny, sleep is everything. Stress and anxiety are intertwined, too. Luckily, we have guides on herbal sleep aids to help you with nodding off.
Journaling – Opening up about our worries can be stressful, especially when the words don't come the way you want. Alternatively, why not consider getting it all out in a wellness journal?
Herbal Tea – As discussed below, caffeine can stimulate anxiety. If you're feeling the weight of the world, swap out your caffeinated drinks for a herbal alternative. A relaxing night-time ritual…
Diet – can, believe it or not, can reduce our anxiety. Eating a balanced diet can squash some of our worries. Eating foods such as dark chocolate and asparagus may help you feel calm.
Talk – Discussing worries gets them out in the open. It's no good to keep all of your anxieties locked inside. Sometimes, it feels great to chat through things with a supportive friend or even your GP.
Meditation – Calming, relaxing and nurturing, meditation is another go-to anxiety remedy that we recommend. Whether you prefer to stand, sit or lie down, focus on your breathing and get comfy.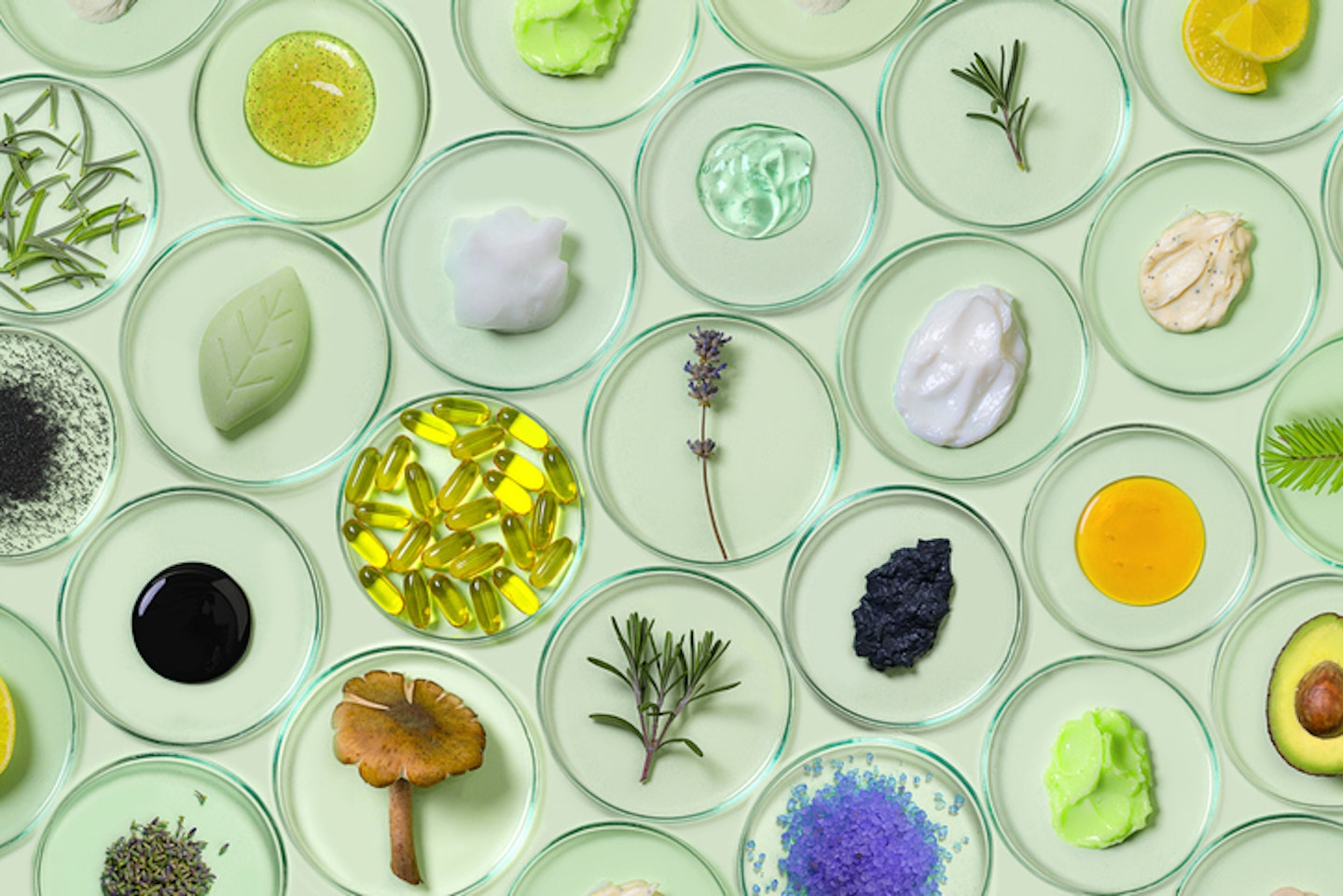 What to look for in anxiety supplements?
Senior Commercial Content Writer, Ellen Kinsey, spoke to dietitian Lola Biggs at natural health supplement brand, - Together Health for the best advice. Lola answers the questions you may have about ingredients and more.
Firstly, Lola says it's important to check how 'clean' supplements are. After all, "you are putting these into your body," she says. "So, steer clear of artificial additives, unnecessary fillers and allergens." For this, Lola suggests sticking to formulas containing organic ingredients manufactured by chemical-free processes.
You may be wondering: how long does it take for anxiety supplements to have an effect? Well, Lola from Together Health says that taking them regularly works best for your body - as your body has what it needs when faced with stress: during the day. After all, anxiety - for most - may come at any time and can be triggered by anything.
She adds that "supplements are most effective when taken over a longer period, so incorporating them into your long-term routine is the best way to get the most out of them. You'll need to take any supplement every day for a few weeks at least before you see real benefits." So, make sure to stock up and add them to your morning or evening rituals.
What are adaptogens?
You may have heard the word flitting around. But, what is an adaptogen? Well, Lola has the answers for this.
"Adaptogens are a unique set of herbs and plants that can help the body adapt, adjust, and recalibrate itself depending on our physical and emotional surroundings." How cool is that? She adds that Ashwagandha and Rhodiola are powerful and have excellent benefits, but they can "also be very effective to pair them together."