We love incense sticks. Similar to candles, something as simple as a scent can evoke many thoughts, feelings and memories. Whether practising yoga or meditation - or just needing some 'you' time, lighting incense could be the ticket to guided relaxation and inner harmony. All the more reason to light them correctly and safely. That's where incense holders come in. Here at Spirit & Destiny, we've rounded up the best incense holders.
What do I need to look for in an incense holder?
There are a few things to keep in mind when choosing an incense holder for your home.
For example, you should catch the ash that falls from your burning incense stick. If your holder doesn't have a tray or adequate space to catch falling ash, you might want to reconsider if you need to protect your surfaces.
Next, design: pick something cool and funky. There are so many small businesses handcrafting smart, innovative and practical products. Maybe you'll find one that will fit perfectly in your home. Check out our top picks below.
Most importantly, will you be burning joss sticks or cones? Make sure you find a holder that can hold your preferred type of incense. On the other hand, you might find a few incense holders that can help with both kinds. Handy.
Lastly, storage is a neat addition that some holders have. If you want somewhere to neatly pack away your collection of fragrant joss sticks or cones, why not look for a box-shaped holder - which can keep everything tidy?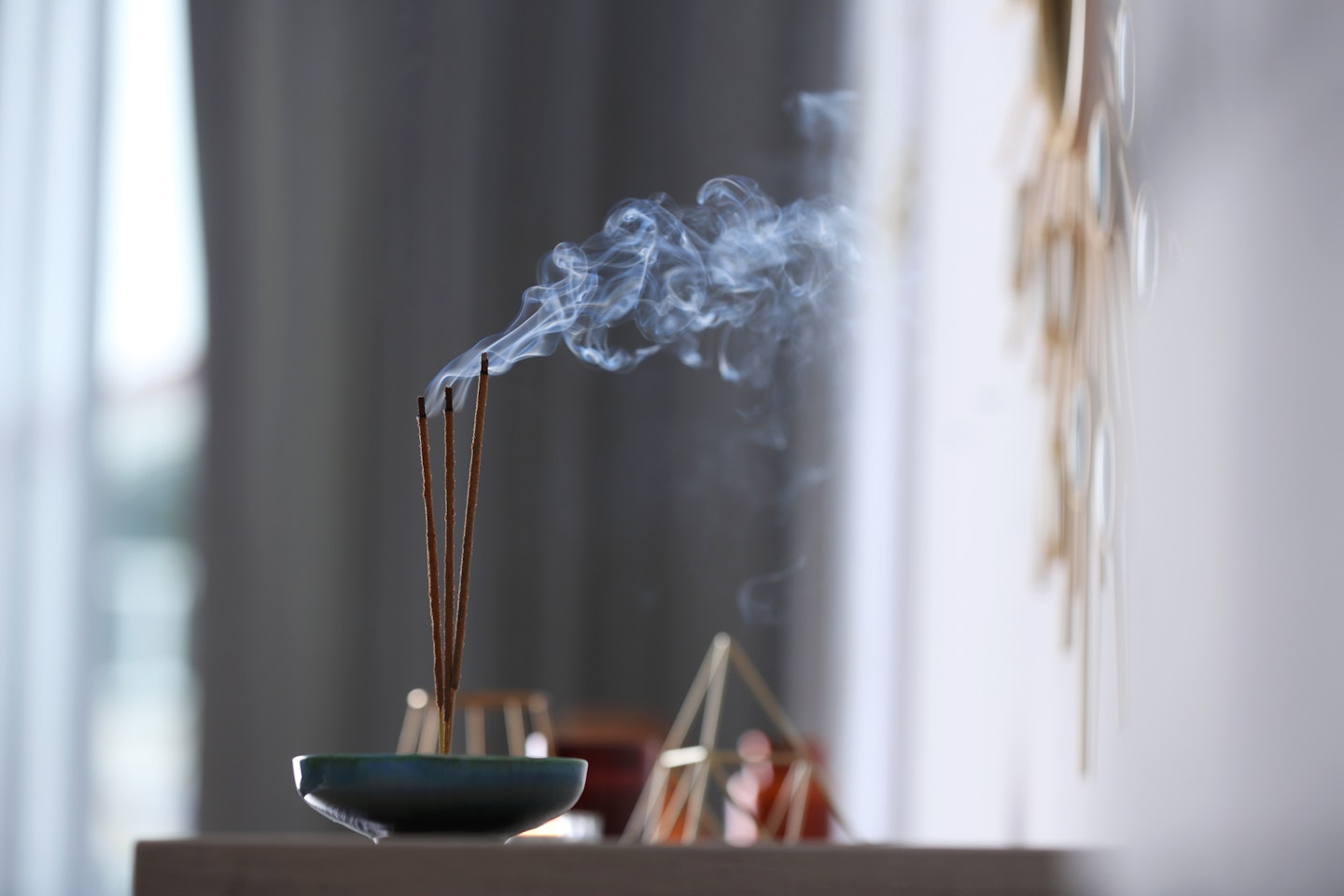 How do I burn incense sticks safely?
Incense sticks should always be burned in a heat-resistant and fireproof holder or dish.
Never leave a burning incense stick unattended or in sight or around children due to fire risk. The angle at which you burn your incense will determine the burn time.
To light incense safely, you must:
1. Light the end (of the thicker part) of the incense stick.
2. Allow the flame to burn for a few seconds - until glowing embers form.
3. Then, extinguish the flame by gently blowing.
4. Your incense stick should be burning now. So, place it in an incense holder.
The best incense holders for burning fragrant sticks
Though simple, this flat ash catcher could be the ticket to lighting your incense safely. Just place a stick in the ready-made hole and burn away. Any ash will be caught on the flat, wooden ash catcher. Handmade from Sheesham wood in the UK, these holders come in various designs and are approximately 25cm in length.
Pros: Simple, budget-friendly, different designs available
Cons: No stick storage
Review: "I love it so much perfect size I've used it already and I'm just in love with it Thank you so much! "
We love this beautifully-crafted incense box from Simply Essential. With this rosewood box, you can burn either sticks or cones. Plus, there is a little stick storage underneath, to keep your fragrances safe and in one place. Wood is durable, water-resistant and a sustainable choice. Handmade in India with an eye-catching brass inlay, this box is a winner.
Pros: Stick storage, can light multiple sticks, cones or sticks
Cons: Box design isn't to everyone's taste
Review: "It's been many years since I burned incense sticks but I have recently started to learn how to meditate and so bought some on Amazon to add to the mood. I was looking for an incense stand and came across this one. After reading the reviews I was a bit apprehensive as some said they had damaged and incomplete boxes and others were very pleased but decided to take the chance. I received it today and I have to say I am impressed, my box was perfect. It's a great little box, not too big either, looks attractive on the shelf, catches the ash inside, and has a handy compartment to store spare sticks. It's great, love it! Considering it's handmade too it's a great price. Go on... take a chance!"
Available from Etsy, this frog incense holder is perfect. Catch your ash in the lotus leaf and let the frog hold your burning incense. This is creative, cute and ornamental. Ideal for any animal lover.
Pros: Attractive design, ash catcher
Cons: No stick storage, not suitable for cones
Review: "Lovely piece, eyes are so cute!!! The packaging was eco-friendly and super cute! The seller also contacted afterwards to see if everything had arrived safely, excellent customer service."
Another beautiful, handmade incense holder from acrylic resin. If you're a fan of the moon, why not check out this holder from Etsy? Each holder has cork pads which prevent any damage to surfaces and has been finished with a satin sealer - so you know it's top quality. It's available in black or rainbow. You're spoilt for choice.
Pros: Design - Rainbow or black, ash catcher
Cons: No storage, sticks only
Review: "A genuinely gorgeous product! So so happy with it, fits in perfectly on my dresser and it's just such a wonderful design and of great quality!"
Elevate your incense accessories with this Turtle and Snail Incense Stick Holder. We the snail and turtle design that are unique and cute.
Pros: Looks cute, heat-proof
Cons: No stick storage, only for sticks
Review: "Absolutely adore this! Arrived quickly and is just as detailed and cute as the snail. Holds every size of stick incense we've found and is completely sturdy. Lovely little holder, thank you."
Incense holder for shorter sticks
Lotus is the symbol of purity and elegance in many cultures, and the layered design makes it look classical and beautiful. Made from quality zinc alloy, it's solid and durable. Plus, the holder can be detached from the ash collector. However, the slightly smaller size means it's only suitable for shorter sticks.
Pros: Pretty, can hold six sticks
Cons: Better suited to shorter sticks
Review: "It's quite small but looks nice. The drawback is that it doesn't catch the ash from ordinary size sticks, even if you break the stick to make it a bit shorter. It just isn't wide enough to catch the ash. But it does look nice and does the job. It arrived on time and well packaged."
Large wooden incense holder
Stylish and beautifully handcrafted, this incense ash-catcher is practical and rustic. With a hole drilled on both ends - it makes mixing scents super easy. It's long enough for standard-size sticks. Burn away!
Pros: Sturdy, catches ash well
Cons: Wobbles
Review: "I used to use the one-inch thick single incense holders, but a lot of the ash would end up on the table. This is very good as it curves inwards and the ash ends up in the middle, so it doesn't need emptying as much and no ash ends up on the table. It's very solid and comes in a box with two incense sticks to start you off."
Made from Aura Que from Etsy, these handmade incense stick holders have a rounded, minimalist design and translucent glaze. The stick stands upright over the rimmed ashtray to minimise cleaning. So simple and pretty.
Pros: Minimalist design
Cons: Sticks only
Crafted from high-quality materials, this exquisite incense holder is perfect for lovers of mythical creatures.
Pros: Amazing design, catches ash
Cons: No stick storage
Review: "The item has a certain weight to it so it doesn't feel cheap, the incense holder aligns with the boat so it captures all of the ash. When the incense is burning it also looks pretty cool. The detailing on the boat is nice and care was clearly taken to make it. I would recommend this product."
Manifest your deepest desires with a beautifully, rough-cut crystal incense holder. Each stone is unique and you will be sent a picture of the one you will be receiving prior to posting. Coming with great reviews, how could you resist?
Available: Lapis Lazuli, Bumblebee, Moonstone, Amethyst, Blue Apatite, Red Agate, Red Jasper, Black Tourmaline
Pros: Pretty design, unique product
Cons: No ash catcher, better suited for smaller sticks
Review: "Sarah sent a photo of the crystal she'd be sending to make sure it was alright which I really appreciated! Lovely customer service and it arrived quickly and very safely packaged!"
Personalised resin incense holder
So pretty, this natural dried flower resin incense holder is handmade and customised to order. It's the perfect companion to finding some relaxation and mindfulness during the day. Gorgeous!
Pros: Customisable, pretty, handmade
Cons: Sticks only, no stick storage
Review: "Amazing quality and so pretty, a lot larger than I thought and included some incense which was sweet! Delivery took a while but I understand it's handmade and packaged really cute! Thanks."
Perfect for any room in the house, this waterfall incense holder can be used in two parts in five ways. Create a mysterious and peaceful atmosphere by watching the backflowing smoke flows down like a waterfall. Whether incense sticks or cones, this beautiful holder will help enhance your practice.
Pros: Different colours available, comes with complimentary incense cones
Cons: None
Review: "I like this, it's cool when the waterfall works, you need a real calm room tho, though even talking is enough to disturb the air around it and stop it working. I like the smell of the incense included but it's quite strong, but the aroma also lasts long, I can smell it the following day so you don't need to have it burning all day."
Sustainable incense holder
Namaste! These beautiful mango wood incense holders are brilliant for burning both cones and sticks. They're made from mango wood which is great for the environment as it's fast-growing, as well as space and water efficient. It makes it very sustainable. Plus, you can choose from a few designs and light up. We love these finds from Etsy.
Pros: Comes with cones, beautiful wood
Cons: No storage
Review: "I received my items at the end of last week and wow I love them. I will definitely be purchasing more for my mum and sister as well. It made my day to open my parcel to your little message and the extra incense cones and it really made me smile THANK YOU!! it really is the little things."
Finally, this holder from Oliver Bonas. Allow your incense to elegantly burn with the Celeste Ceramic Incense Holder. It's green, ceramic and stylish. It would look great anywhere in your home. Groovy.
Pros: Cool design, stylish
Cons: Better suited to shorter sticks
Review: "Absolutely love this incense holder. The only thing I would say is it's a shame it's not a tiny bit longer to catch the first bit of incense that drops but it's not a problem. I've since purchased the pink one too which catches less as it's round and smaller but love them both."
FAQs
Are there any benefits of burning incense?
There are a few benefits to burning incense:
Meditation
Incense has been common practice for thousands of years. When it comes to meditation, incense can deepen and uplift your practice. How? By heightening your senses. So, if you're practising at the moment, why not experiment with some fragrances? To be specific, sandalwood and lotus are commonly used in meditation but choose what suits you best.
Yoga
Similarly, with a physical practice like yoga, your mind needs to have some focus. Plus, there needs to be harmony between you and your psyche. So, if you're not able to create the right atmosphere, your session could not work out. When you're in the middle of a session, something influential would be best. But, you want to avoid pungent and distracting smells. To clarify, aloeswood can enhance focus. However, Paolo Santo can be burned during practice to dispel negative vibes.
Sleep
Spirit & Destiny are more than aware of the importance of sleep. Sleep is essential. It regulates our moods, energies and wellbeing. Not getting enough sleep can mean bad news for our bodies and mind. So, if you've tested a few sleepy remedies and not seen much success, maybe burning incense could be the answer. Lavender is a good starting point. Or, there's chamomile as an alternative. To clarify, having some incense burning when snoozing is far safer than using a candle.
Relaxation
If you need to put your feet up and preserve some of your energy, incense could help you find that happy place. Perfect for pairing with a cuppa – or a good book and some New Age music. Bliss. Sit down, focus on yourself and leave everything else behind – even if just for half an hour. For this, you could try cedarwood, frankincense and sandalwood to aid your relaxation.
Reduce stress and anxiety
Likewise, with reducing stress and anxiety, you should be taking active steps to calm yourself and help you relax. Hopefully, lighting some fragrances may help. Perhaps – here, you will embark on a new journey, on your own, distancing yourself from your troubles, finding some peace and reflecting on your blessings. For this, we recommend sandalwood, lavender and rosemary. On the other hand, rose and aloeswood help out with mood and even raise serotonin levels.
Spirituality
Saved the best for last. Are you tapping into your spiritual side? For a long time, burning incense has been used in religion and spiritual practice, namely in Hinduism and Buddhism. So, incense can aid, enhance and enrich your practice. Whether it's meditation, rituals or yoga, incense could be your doorway to your spiritual journey. Step right through with frankincense, sandalwood or myrrh.